RACING ESTA SEMANA
CARACTERISTICAS
SERVICIOS
Escandaloso Dasher (número 5) detiene a Apollitcal Run (número 7) en las pruebas del Domingo hacia el Turf Maiden Stakes (no de tipo negro) en Turf Paradise.

© Coady Photography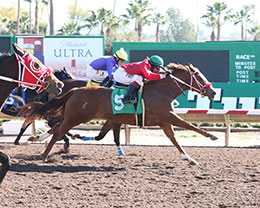 Escandaloso Dasher, El Más Rápido En Turf Paradise Maiden Trials
PHOENIX, AZ — 5 DE ENERO DE 2020—
Escandaloso Dasher rompió su maiden el Domingo cuando detuvo a su compañera de establo Apollitical Run en la primera de las dos pruebas disputadas hacia el Turf Paradise Maiden Stakes (no de tipo negro) en el Hipódromo de Turf Paradise.
Los diez calificadores más rápidos regresarán a la pista de carreras de Phoenix, Arizona, el Domingo 26 de Enero para competir por la parte del ganador de una bolsa de $5,000 añadidos en 300 yardas.
Bajo el mando de Kassie Guglielmino, Escandaloso Dasher irrumpió al comienzo antes de tomar la delantera y terminar las 300 yardas en: 16.620 segundos, lo que equivale a un 92 en índice de velocidades. Fue la primera victoria en su carrera en cinco salidas para la hija del Padre Lider de todos los tiempos, First Down Dash .
John M. Allred entrena a la potranca para él y Mary Allred. Criada en California por John Andreini, desde la yegua por Mr Jess Perry One Famous Ermana, Scandalous Dasher no ganó a los 2 años, sin embargo, calificó para el Fall Futurity del Presidente AQHRA y Granit Mountain QH Futurity. Ella ha ganado $3,931.
Jake Samuels recibió la llamada a bordo del Apollitical Run, compañero de establo, que aguantó el segundo tiempo más rápido de: 15.646 segundos. Allred entrena a la hija de Freighttrain B para el dueño Scott McDaniel.
Rancho El Cabresto Inc. crió a la potranca en California desde Oneapollitical por One Famous Eagle . Ha compilado un registro de (5) 0-2-1 y acumuló $2,233.
Pcr Flashin The Cash fue el ganador principal de I Roll Like That en la prueba de apertura para registrar el tercer mejor tiempo de: 15.670 segundos, un 91 en índice de velocidades para el propietario-criador Greg Torgerson.
Jesus Torres-Casas entrena al hijo criado en casa en Utah desde un destacado padre de la segunda camada, Five Bar Cartel, desde la yegua por Seperatist, Classy Sassy Anna. El potro gris montado por Jake Samuels tiene una victoria en seis inicios de carrera y ha ganado $2,698.
Para obtener la lista completa de los clasificadores de Turf Paradise Maiden Stakes, sus tiempos, pedigrí, propietarios, criadores, entrenadores y jinetes, HAGA CLIC AQUÍ .