RACING ESTA SEMANA
CARACTERISTICAS
SERVICIOS
Canselman, bajo el jinete Cristian Esqueda, gana fácilmente el Matron Stakes de $15,000 en Louisiana Downs el Sábado.

© Hodges Photography / Ann Switalski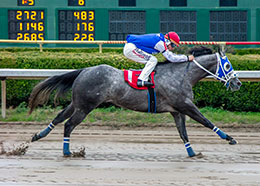 Canselman el Mejor en Marathon Stakes en Louisiana Downs el Sábado
BOSSIER CITY, LA — 11 DE ENERO DE 2020—
Canselman se retiró tarde para derrotar a Desire Astoli por un cuerpo y medio en el $15,000 Marathon Stakes el Sábado por la tarde en Louisiana Downs.
Montado por el jinete Cristian Esqueda, Canselman corrió las 870 yardas sobre una pista de carreras fangosa (sellada) en: 45.742 segundos, lo que equivale a un índice de velocidad de 98. Fue la primera victoria en su carrera para el hijo de Favorite Cartel y el bolso ganador de $9,000 aumentó sus ganancias a $34,015.
El entrenador Alfredo Gómez condiciona al 4 añero para el propietario Q and S Racing. Criado en California por Steve D. Burns, DVM, Canselman es hijo de la yegua hija de Separatist, Fall For It.
Las conexiones ganadoras de Canselman aceptan el trofeo del Marathon Stakes el Sábado por la tarde en Louisiana Downs.
© Fotografía Hodges / Ann Switalski
Favorita, Desire Astoli, ganó $3,000 con el jinete Donald Watson. Kenneth Roberts, Sr., ensilló a la hija ganadora de clásicos hija de
Desirio
para el propietario-criador Gary Aber.
La yegua de 5 años de edad, hija de la yegua Stoli Victory por Stoli, ingresó a la carrera después de una racha de tres victorias que incluyó el Faubourg St. John Stakes en el Fair Grounds el verano pasado. Ella ha ganado $104,470.
Freakin Patriot Dash, de Jesus Huitron Lira, terminó por medio cuerpo detrás para ganar $1,650 por tercero. Pedro López entrena y Pedro Espinosa recibió la llamada a bordo del hijo de 5 años de Game Patriot y de la yegua Freakin Dash, hija de Streak And Dash. Ha ganado $53,865.
Im Mighty Fast y Dashing Queen completaron el campo.
* * * * * * * * * * *
Sobre Harrah's Louisiana Downs
Ubicado cerca de Shreveport en Bossier City, Louisiana, Louisiana Downs abrió sus puertas en 1974 y fue comprado por Caesars Entertainment en Diciembre de 2002. Con las temporadas anuales de carreras Caballos Cuarto de Milla y Purasangres, la pista se compromete a presentar los programas de carreras de más alta calidad combinados con su complejo de entretenimiento de 150,000 pies cuadrados que ofrece juegos de casino, restaurantes y televisores con pantalla de plasma para deportes y carreras de transmisión simulcast.