RACING ESTA SEMANA
CARACTERISTICAS
SERVICIOS
Cat Daddys Lil Girl, bajo el jinete Mauro Salcedo, ganando el $100,000 Lou Wooten y Sydney Valentini Handicap el Sábado en Sunland Park Racetrack & Casino.

© Coady Photography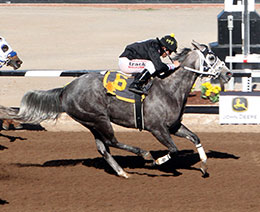 Cat Daddys Lil Girl Gana Lou Wooten and Sydney Valentini Handicap
SUNLAND PARK, NM — 11 de Enero de 2020—
Jimmy Negrete y la criada en casa de Jimmy Vasquez, Cat Daddys Lil Girl, corrieron a su segunda victoria consecutiva en carreras de grado el Sábado cuando derrotó a su compañero de cuadra Woodys Copy Cat en el $100,000 Lou Wooten and Sydney Valentini Handicap (RG2) en el hipódromo de Sunland Park & Casino.
Presionado temprano por el jinete Mauro Salcedo, Cat Daddys Lil Girl se alejó para ganar por tres cuartos de cuerpo mientras completaba el recorrido de 400 yardas en: 19.565 segundos con un viento de cola de 9 mph. Después de una victoria en el New Mexico QH Fillies and Mares Championship(RG1) el 1 de Diciembre en su última salida, el bolso de ganador del Wooten valorado en $60,000 aumentó el total de ganancias de la 4 añera a $305,062.
Cynthia González condiciona a la hija gris del Padre Lider de Nuevo México, Big Daddy Cartel y de la yegua hija de Man On The Move, Girlonthego. Cat Daddys Lil Girl ha compilado un record (13) 6-3-1.
Las conexiones ganadoras de Cat Daddys Lil Girl aceptan el trofeo del Lou Wooten y Sydney Valenti Handicap stakes el Sábado en Sunland Park Racetrack & Casino.
© Fotografía Coady
Woodys Copy Cat, una hija de 4 años de edad del padre de múltiples ganadores de clásicos
Woodbridge
, ganó $20,000 por terminar en segundo lugar. González entrena a la potranca ganadora de carreras de grado para el propietario Enrique Barrera.
MJ Farms
crió a la potra café de la yegua hija de Heza Fast Man, Fast Copy Miss Manuel Gutiérrez recibió la llamada a bordo del ganador de $350,928.
Djs Winner de Double Eagle Ranch terminó en tercer lugar para ganar $10,000. Toby Keeton ensilló a la yegua de 4 años de edad hija de Winners Version y de la yegua Salt N Sea (TB), hija de Gone Hollywood (TB). El jinete Noe Garcia, Jr. montó a la potra colorada a su primer final de tipo negro en 12 salidas. Ella ha ganado $64,660.
Sister Sophia, Chicks Baby Suds, Hollywoodcrown, Zee James, Tooflashforyou, First N Forever y Addy Ann Angel completaron el campo.
* * * * * * * * * * * * *
Excepto para el día de apertura el Jueves, 26 de Diciembre, las carreras en vivo en Sunland Park se llevan a cabo los Viernes, Sábados, Domingos y Martes hasta el Martes, 21 de Abril de 2020. La hora de publicación para comenzar la temporada es a las 12:25 pm. Nueve carreras estarán en la tarjeta de Lunes a Viernes. Se presentarán diez carreras los Sábados y Domingos.