RACING ESTA SEMANA
CARACTERISTICAS
SERVICIOS
Up And Coming (#6) termina por encima de John Carter Cash (# 4) y Doctor Gene (# 1) en el Vandys Flash Handicap de $25,000 el Domingo por la noche en el hipódromo de Los Alamitos.

© Scott Martinez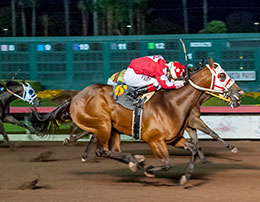 Up And Coming, Un Ganador De Múltiples Clásicos Después De Ganar Vandy's Flash
LOS ALAMITOS, CA — 28 DE JUNIO DE 2020—
La Feliz Montana Ranch LLC y Up and Coming de MRB Racing LLC lograron su segunda victoria del año después de vencer a John Carter Cash de Juan Ramos Dorantes en el Vandy's Flash Handicap de $25,000 para 3 añeros- el Domingo en Los Alamitos.
Montado por Eduardo Nicasio para el entrenador Chris O'Dell, Up And Coming tuvo una salida desde la puerta seis y acabó con sus rivales en la ruta hacia una victoria por un cuello en la carrera de 400 yardas.
El hijo castrado de Kiddy Up cubrió la distancia en: 19.831 mientras agregaba el Vandy's Flash a su victoria desde atrás en el James Smith Handicap el 5 de Abril. Up And Coming también se sumó a su cuenta de victorias, que ahora cuenta con siete victorias en 12 salidas .
"Estamos bastante contentos con él,'' dijo O'Dell. Son dos clásicos este año para él. Mis muchachos en Nuevo México que lo poseen, La Feliz Montana y MRB Racing, estarán contentos con eso. Eso muestra que aún podemos hacerlo de vez en cuando. Tienes que montar la montaña rusa, especialmente en este nivel de competencia. Sube y baja. Lo miré y parecía un campo de derby. Se enfrenta a caballos duros. Estamos muy satisfechos. Es un caballo duro. Él está ahí todo el tiempo. Ha sido una buena inversión.
Comprado por $67,000 en la venta equina de Los Alamitos, Up And Coming agregó $13,750 a su cuenta bancaria para llevar sus ganancias profesionales por encima de la marca de $90,000 a $90,561.
Además de superar a John Carter Cash, quien ingresó a esta carrera después de iluminar a sus rivales en el Dillingham Handicap el 16 de Mayo, el Vandy's Flash también incluyó a Cattail Cove de Link Newcomb, el subcampeón del Grado 1, Los Alamitos Two Million Futurity.
Pay Me In Front, subcampeon del James Smith, subcampeonatos del AB What A Runner, Fashin Icon, y los recientes ganadores allowance, Doctor Gene y Fly The Heights. Montado por Jose Nicasio para el entrenador Valentin Zamudio, John Carter Cash saltó al principio, se recuperó tomo la delantera, pero fue atrapado tarde por Up And Coming. El hijo de Carters Cartel ganó $5,625 por su segundo puesto y ahora ha terminado entre los dos primeros en nueve de las 13 salidas de su carrera. Sus conexiones hicieron el pago atrasado de $30,000 para que fuera elegible para las eliminatorias al Los Alamitos Super Dery el 17 de Octubre.
Doctor Gene de Ed Allred terminó tercero y fue seguido por Pay Me In Front, Fashin Icon, Cattail Cove y Fly The Heights.
Cattail Cove tropezó al principio y nunca amenazó en su primer inicio del año.
* * * * * * * * * * * * * *
Cortesía de www.losalamitos.com .