RACING ESTA SEMANA
CARACTERISTICAS
SERVICIOS
El calificador más rápido Zoom On Jess regresó para ganar el Bitterroot Derby de $22,110 en Pocatello Downs el Viernes por la noche.

© Kira Crook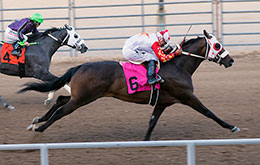 Calificador Superior, Zoom On Jess Easy, Ganador de Bitterroot Derby $22,110 en Pocatello
POCATELLO, ID — 31 DE JULIO DE 2020— Zoom On Jess fue un ganador convincente del Bitterroot Derby de $22,110 en Pocatello el Viernes por la noche. El calificador más rápido volvió a ganar por casi un cuerpo en la final de 400 yardas con un tiempo de 20.202 y un 92 en índice de velocidades.
Eric Ayala recibió la llamada de Zoom On Jess ($3.80), un hijo castrado de Jess Zoomin entrenado por Monty Arrossa.
Gary y Jeralyn Messenger de Idaho criaron y poseen a Zoom On Jess, que está fuera de Feature Miss Fame, por Feature Mr Jess . Es un ganador de múltiples clásicos con siete victorias en 16 inicios de carrera y ganancias de $68,834.
En 2019, Zoom On Jess calificó para el Bitterroot y ganó el Idaho Cup en Sandy, seguido por The Plan Handicap en Los Alamitos. Se quedó en Los Al durante el invierno y compitió en varios clásicos, incluido el Los Alamitos Winter Derby (G2). Antes de regresar a Idaho, terminó segundo en el Adequan California Regional Derby Challenge.
Mark Hanson entrena a los finalistas segundo y tercero, Sables Dashin y Thrill of the Cartel. Los compañeros de establo también fueron el segundo y tercer calificador más rápido.
Nakia Ramirez estaba a bordo de Sables Dashin, propiedad de Robin Dunn, Larry Chapple y RTM Stables LLC. Fue criado por Bob Moore Farms en Oklahoma, desde Painted Sable, por Pyc Paint Your Wagon . Painted Sable es una yegua colocada en múltiples niveles y fue segunda en el AQHA Distaff Challenge Championship (G1) en Prairie Meadows en 2012.
Al igual que su madre, Sables Dashin ha tenido éxito en el programa del AQHA Challenge. Ganó el Pocatello Downs Juvenile Challenge el otoño pasado y compitió en el John Deere Juvenile Challenge Championship (G2) en Albuquerque en Octubre.
Jesus Canales regresó para montar Thrill of the Cartel, quien fue segundo detrás de Sables Dashin en su eliminatoria. A los 2 años de edad, se clasificó para el Bitterroot Futurity y ganó el Emerald Downs Juvenile Challenge antes de competir en el John Deere Juvenile Challenge Championship (G2). Este año, ha corrido en los clasificatorios regionales del Adequan Derby Challenge en Weber y Pocatello.
Thrill of the Cartel es propiedad de Hanson Racing LLC, Robin Dunn y Kevin Dunn. Fue criado en Texas por Fulton Quien Sabe Ranches LP, por Favorite Cartel y License To Thrill, por Mr. Jess Perry .
Completando el campo estaban Dashn Courage, Sheza Tacy Gator, Brilliant Cut Cartel, Vf Silverback, Rtm Good Enough, Snowsa Flying y Shidacious.
Nota del editor: se publicará una foto de esta carrera cuando esté disponible.