RACING ESTA SEMANA
CARACTERISTICAS
SERVICIOS
Pocatello Downs organizó el Bitterroot Futurity de $95,604 en la tarjeta del Viernes.

© Kira Crook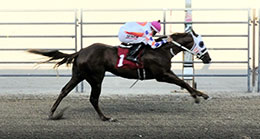 Proud Movin Renegade Extiende Su Racha de Victorias A Cuatro En El Bitterroot Futurity de $95,604
POCATELLO, ID — 31 DE JULIO DE 2020— Proud Movin Renegade tomó una ventaja temprana para ganar el Bitterroot Futurity de $95,604 por un cuerpo en Pocatello el Viernes por la noche, extendiendo su racha de victorias consecutivas a cuatro carreras.
Proud Movin Renegade obtuvo un 102 en índice de velocidades cuando el jockey Jesús Valenzuela lo guió a la victoria en 17.440 en el clasico de 350 yardas.
Entrenado por Riley Moosman, Proud Movin Renegade ($8.60) es un caballo castrado en Idaho por Maknmoves. Es propiedad y criado por XG Bar Racing LLC, desde Proud Moon bug, por Proudest Effort.
Proud Movin Renegade debutó en Weber y rompió su Maiden en su segunda salida, una prueba para el Beehive Futurity. No califico para la final, pero regresó para ganar la carrera de consolación antes de ganar la prueba hacia el Bitterroot como el segundo calificador más rápido.
Con cuatro victorias en cinco salidas, Proud Movin Renegade ha ganado $44,917 en su carrera de 2 años hasta la fecha.
Desde el establo de Mark Hanson, The Prize Ferarri y Jesus Canales mantuvieron a Coronado Kiss en segundo lugar. The Prize Ferarri ganó la segunda de cinco pruebas y fue el tercer calificador más rápido en general para el Bitterroot.
The Prize Ferarri es propiedad de RTM Stables, Robin Dunn, Kevin Dunn y Byron Goody. Fue criado por Weetona Stanley en Oklahoma, desde Ferarri Fast Prize por Mr Jess Perry , lo que lo convierte en medio hermano del ganador de múltiples clásicos, Ferrari James.
En cuatro esfuerzos profesionales, The Prize Ferarri tiene dos victorias de prueba y dos segundos puestos en carreras clasificadas; También calificó para el Crush the Curve Futurity en Pocatello en Junio.
Coronado Kiss y Mark Jasso completaron la trifecta. El castrado por Coronado Cartel es entrenado por Monty Arrossa para los propietarios Andrea y Eddie Jensen.
A principios de este año, Coronado Kiss fue el calificador más rápido para el South Valley Futurity en Laurel Brown; terminó segundo en la final. Fue el quinto calificador más rápido para el Bitterroot y corrió segundo en su prueba detrás del calificador más rápido, Babes Fabulous Eagle.
Coronado Kiss fue criado en Utah por Allreds Horse Haven, desde la yegua por Maknmoves, Sixteen Kisses.
Completando el campo estaban Sole Man, Fortunes Wild Blood, Babes Fabulous Eagle, Jr Hiway 93, Play Ur Cards y Winning Blood Mv. Compendium fue borrado.