RACING ESTA SEMANA
CARACTERISTICAS
SERVICIOS
Five Bar Fandango, bajo el mando del jockey Ismael Mosqueira, marcó el tiempo más rápido en las pruebas hacia el Ontario Bred Maturity de $40,000 añadidos el Lunes en Ajax Downs.

© Clive Cohen / New Image Media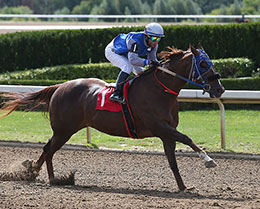 Five Bar Fandango Superior Hacia Ontario Bred Maturity
AJAX, ONT — 14 DE SEPTIEMBRE DE 2020—
Five Bar Fandango, colocado en clásicos, obtuvo hoy su segunda victoria consecutiva cuando registró el tiempo más rápido para Ontario Bred Maturity en Ajax Downs.
Los 10 calificadores más rápidos regresarán a Ajax Downs el Lunes 12 de Octubre para competir por la parte del ganador de la bolsa de $40,000 adicionales que recorre las 400 yardas.
Montado por el jockey Ismael Mosqueira, Five Bar Fandango se fue de principio a fin para derrotar a Shes Sizzling por medio cuerpo mientras lograba el tiempo máximo de: 20.261 segundos, con un viento en contra de 15 mph.
Tres On Fire (# 2), bajo Ismael Mosqueira, lucha contra Fiesty Icon (#3) en la prueba inaugural del Ontario Bred Maturity el Lunes por la tarde en Ajax Downs.
© Clive Cohen / New Image Media
El entrenador Bryn Robertson cargó a la hija de
Five Bar Cartel
en la sexta victoria de su carrera para los criadores propietarios Carol y Jamie Robertson.
En tercer lugar en el Ontario-Bred Derby a los 3 años, Five Bar Fandango ha ganado $52,955. El potro de 4 años es hijo de Had To Be Fandango por Hadtobenuts.
También pilotada por Mosqueira, Tres On Fire consiguió su segunda victoria consecutiva en la primera prueba para conseguir el tercer mejor tiempo de: 20.392 segundos. Carol McIntyre ensilló al hijo de Fire Finder para el propietario Big Dog Racing Stables. Gary McNichol crió al cinco veces ganador de la yegua por Tres Seis Quick Six Lady. El niño de 4 años ha ganado $30,597.
Para obtener la lista completa de los calificados hacia el Ontario Bred Maturity, sus tiempos, pedigrí, propietarios, criadores, entrenadores y jockey HAGA CLIC AQUÍ .
* * * * * * * * * * *
Ajax Downs continúa celebrando carreras en vivo a puertas cerradas debido a la pandemia de COIV-19, pero todas las carreras se transmiten en vivo en ajaxdowns.com y los fanáticos pueden abrir una cuenta para ver y apostar por la tarde en Horseplayer Interactive, hpibet.com .
Asegúrese de seguir a Quarter Horses @AjaxDowns en Twitter, Facebook e Instagram para recibir noticias y actualizaciones.