RACING ESTA SEMANA
CARACTERISTICAS
SERVICIOS
Leah Caroll, bajo el mando de Víctor Salazar, derrotó a The Best Feeling en el Last Chance Dash Stakes de $205,000 en Los Alamitos el Domingo por la noche.

© Scott Martinez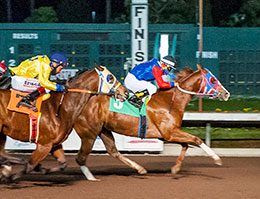 Salazar y Leah Carroll Obtienen Su Primera Victoria En Last Chance Dash En Los Alamitos
LOS ALAMITOS, CA —27 DE DICIEMBRE DE 2020—
El jockey Víctor Salazar disfrutó de su primera victoria en el juego después de guiar a Leah Carroll de Bobby Simmons a la victoria en el Last Chance Dash Handicap de $15,000 en 110 yardas el Domingo en Los Alamitos.
The Last Chance Dash representó la última carrera del año en la pista del Condado de Orange. La acción en juego se reanudará el próximo Domingo por la noche con el Grado 1, Charger Bar Handicap de $100,000.
Para Salazar, su primera victoria clasificada se produjo en sólo la 50ª carrera de su carrera. Esta fue también la quinta victoria de su carrera desde que comenzó su carrera el 30 de Agosto. La monta, en Leah Carroll llegó para el entrenador Paul Jones, el segundo líder de todos los tiempos en esta pista en victorias en juego ahora con 340 a su nombre. Jones tiene 453 victorias en juego a nivel nacional.
Criada por Bobby Simmons, Leah Carroll estaba registrando su primera victoria clasificada y su segunda victoria general. La potranca criada en Texas por el padre de segunda camada Hes Relentless ha publicado varios esfuerzos competitivos en las pruebas de participación, incluido un tercero en su prueba hacia el PCQHRA Breeders Futurity el 13 de Septiembre y el cuarto lugar en las pruebas para Golden State Million Futurity y Los Alamitos Two Millon Futurity.
Desde la yegua por Ocean Runaway, Iva La Blue, Leah Carroll ganó $8,250 por la victoria para llevar sus ganancias de carrera a $15,405.
The Best Feeling de Jaime Gómez y Juan Sevilla, ganadora del Far West Futurity en Grants Pass en su salida anterior, terminó en segundo lugar. La potranca por Docs Best Card, ganó $3,375 por su segundo lugar.
Oscar Peinado piloteó para el entrenador Gómez. El entrenador también ensilló a Interragator, el hijo castrado de Tres Seis a un tercer puesto en esta carrera. Con Juan León arriba, el corredor propiedad de Juan Chávez ganó $1,875.
Makalerina, Perrys Ever Lasting, Single Brad y Cartels Legacy completaron el campo.
* * * * * * * * * * * * * *
Para obtener más información, comuníquese con larace@losalamitos.com. Síganos en Twitter o Instagram en @losalracing o visítenos en línea en www.losalamitos.com .