RACING ESTA SEMANA
CARACTERISTICAS
SERVICIOS
JR Ramirez pilotará a Up N Fly en la sexta carrera el Sábado por la noche.

© Scott Martinez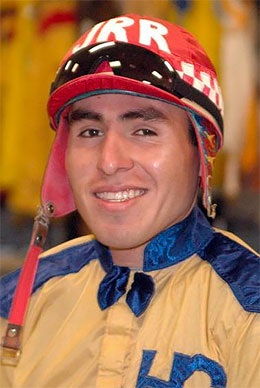 Jockey JR Ramirez Regresa a Los Alamitos
LOS ALAMITOS, CA — 10 DE ENERO DE 2020—
JR Ramírez, uno de los jockeys más exitosos en la historia de las carreras Cuarto de Milla, regresa a Los Alamitos y pilotará a Up N Fly en la sexta carrera el Sábado por la noche.
Ramírez, quien se ubica en el puesto 22 de todos los tiempos en Cuartos de Milla con 1,517 triunfos y 25 en ganancias con más de $21.4 millones, hizo una breve aparición aquí en Diciembre y dijo que esperaba pasar varios meses en Los Alamitos en 2020.
"Tengo muchos buenos recuerdos viajando en Los Alamitos,'' dijo Ramírez. "Siempre lo he disfrutado aquí".
Ramírez pilotó a los campeones Higher Fire y Jess You And I para ganar millones de dólares en futurities en Los Alamitos. Guió a la potranca Higher Fire a ganar en Ed Burke Million Futurity y Golden State Million Futurity en 2005.
Luego puso a prueba a Jess You And I en la victoria en el Golden State Million Futurity de 2006. Ramírez también ha montado Tac It Like A Man , Gold Nugget Rd y AQHA Campeón Mundial, Oak Tree Special.
Ramírez ha terminado entre los 10 mejores a nivel nacional en victorias cinco veces y en ganancias cinco veces también. Fue tercero en la nación en ganancias en 2005 después de pilotar a la Campeona de AQHA, Higher Fire y la ganadora del Kindergarten Futurity, Gold Nugget Rd a sus victorias de Futurity.
La octava carrera es el evento principal en la tarjeta con seis cuartos de milla a 300 yardas. La Miss Montielita de Francos Ranch y Mario Tellez Montiel es una de las principales contendientes después de ganar dos de sus últimas cuatro salidas. Special JB, dos veces ganador en 2019, es otro de los principales contendientes en esta carrera.
* * * * * * * * * * * * * *
Cortesía de www.losalamitos.com .