RACING ESTA SEMANA
CARACTERISTICAS
SERVICIOS
El clasificado más rápido, Jess Tequila Talkin, encabezará 11, 3 añeros, criados en Nuevo México, que entraron al Shue Fly de $226,200 a 400 yardas el Sábado en Sunland Park Racetrack & Casino.

© Coady Photography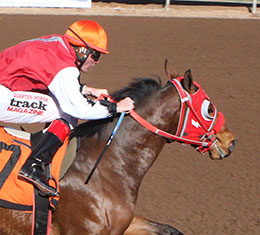 Jess Tequila Talkin, Donelli Encabezan $226,200 Shue Fly Stakes
POR MICHAEL CUSORTELLI
SUNLAND PARK, NM — 21 de Enero de 2020— El calificador más rápido Jess Tequila Talkin y el ganador de clásicos Donelli se encuentran entre los 11 niños, 3 añeros criados en Nuevo México que entraron al $226,200 Shue Fly Stakes (RG2) a 400 yardas, el Sábado en Sunland Park .
Hijo colorado de Jesse James Jr, entrenado por Jackie Riddle para el propietario Gary W. Hartstack, Jess Tequila Talkin abrió su campaña como tres añero con una clara victoria por dos y tres cuartos de cuerpo en la tercera de seis pruebas para el Shue Fly el 3 de Enero. El castrado a ganado $58,747 de siete salidas, y fue finalista en el Zia Futurity (RG1) de $434,210 el año pasado en Ruidoso Downs.
Jess Tequila Talkin saldrá de la posición numero 7 y será montado por Tanner Thedford.
Donelli es una hija criada en casa de Big Daddy Cartel, entrenado por Wes Giles para el propietario MJ Farms de Veguita, Nuevo México. La potra gris ha ganado $214,638 de seis salidas, y sus cuatro victorias incluyen una victoria por tres cuartos de cuerpo el 22 de Septiembre, en el $386,196 New Mexico State Fair Futurity (RG3) en Albuquerque Downs.
Donelli saldrá de la posición numero 8 y será montado por Alan Hernández.
La alineación completa, en orden de posiciones de puertas, incluyendo asignaciones de jinete y probabilidades de la línea de la mañana:
Jess Featured Girl (Paul O. Garcia), 5-1
Close To Crazy (Jaime Parga Leos), 8-1
Doinwhateverittakes (Adrian Ramos), 10-1
Perrys Regard (Manuel Gutierrez), 8-1
Six Pack Fame (Sergio Becerra Jr.), 10-1
Take It To The Judge (Alfredo Triana Jr.), 12-1
Jess Tequila Talkin (Tanner Thedford), 3-1
Donelli (Alan Hernandez), 4-1
Lewandosky (Ricky Ramirez), 8-1
Champagne Room (Alonso Rivera), 10-1
AE-Finnley (Raul Herrera), 12-1
Todas las carreras de Sunland Park se pueden ver en Q-RacingVideo.com.