RACING ESTA SEMANA
CARACTERISTICAS
SERVICIOS
Home
>
Preview Racing
>Retama Park Continúa Programa de Carreras de Entrenamiento el Viernes
Retama Park organizará 12 carreras de entrenamiento, nueve para 2 añeros, el Viernes.

© Bee Silva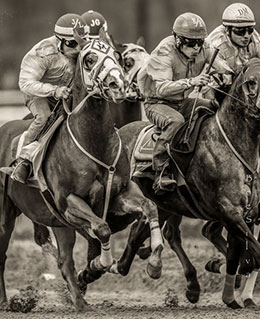 Retama Park Continúa Programa de Carreras de Entrenamiento el Viernes
SELMA, TX — 19 DE MARZO DE 2020—
Retama Park continuará su serie de carreras de entrenamiento el Viernes (20 de Marzo) con otras 12 carreras en la tarjeta programadas para un horario de publicación al mediodía (CDT).
Las carreras 1 a 3 han sido clasificadas para Maidens 3 Añeros y Mayores mientras que el resto del programa será Maiden 2 añeros. Todas las carreras se disputarán a 250 yardas.
Un par de añales graduados de ventas de verano de $30,000, por el Padre Lider Apollitical Jess, se enfrentarán en la Carrera 5 para los entrenadores Josue Ponce y José Sánchez III.
Ponce enviará a Jess A Candy Rogue, desde la posición numero 5, para los propietarios Edmar y Omar Paredes. El potro entero colorado es la segunda cria en edad de correr de la yegua ganadora hija de Pyc Paint Your Wagon, All About The Candy, una hermana del ganador de clásicos Send Candy Power. Victor Manuel Urieta, Jr. montará.
Vendido en la Venta Selecta de Añales de Ruidoso 2019 por $30,000 por Lazy E Ranch, LLC, agente de Brock Broussard, Jess A Candy Rogue es de la familia del ganador del Speedhorse Futurity (RG1) This Candys Red Hot y campeón Jess Good Candy.
Sánchez III ensillará a Apollitical Pushing, un graduado por $30,000 de la Venta de Añales Heritage Place de Septiembre propiedad de AA Farms LLC. Consignado por Robicheaux Ranch, Inc., agente el potro entero colorado es hijo de la yegua Pushing Dazies, colocada en Grado 1, por Strawflying Buds, una media hermana del tres veces campeón Jess You And I. Eddie Sanchez montará desde la posición numero 6.
Para obtener una lista de las entradas para 2 añeros en Retama Park el Viernes, incluyendo la información sobre el padre, madre, propietario, entrenador, jinete y venta (si corresponde) HAGA CLIC AQUÍ.
Los resultados con horarios individuales se publicarán en StallioneSearch.com cuando estén disponibles el Viernes por la noche.