RACING ESTA SEMANA
CARACTERISTICAS
SERVICIOS
El campeón Had To Be Ivory es el favorito de la línea de la mañana, entró al Picov Maturity de $31,800 a 300 yardas el Miércoles en Ajax Downs.

© New Age Media / Clive Cohen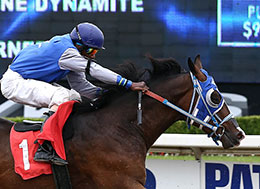 Nueve Velocistas Entraron a $31,800 Picov Maturity
POR MICHAEL CUSORTELLI
AJAX, ONTARIO, CAN —28 de Junio de 2020— Nueve velocistas mayores, liderados por el favorito de la línea de la mañana Had To Be Ivory, entran al Picov Marurity de $31,800 a 300 yardas el Miércoles en Ajax Downs.
Had To Be Ivory, hijo de Ivory James de 5 años de edad criado en casa por Bryn Robertson para los propietarios Carol Robertson y Jaime Robertson, debutó en la temporada con una victoria en una carrera allowance de $13,000 a 300 yardas en Ajax Downs el 17 de Junio. El caballo castrado ha ganado 12 de 15 salidas, todas en Ajax Downs, y ha ganado $168,544.
Had To Be Ivory ganó dos carreras clásicas el año pasado, incluyendo el Picov Maturity. El caballo castrado saldrá de la posición lejana y será montado por Tony Phillips.
La alineación completa, en orden de posiciones de puertas, incluyendo asignaciones de jinete y probabilidades de la línea de la mañana:
Had To Be Ivory (Tony Phillips), 3-1
Carneros (Ed Walton), 4-1
Chicksdigmymoneybags (Regan Knowles), 7-2
Not Whistlin Dixie (Lloyd Desouza), 6-1
Shes Sizzling (Ramiro Castillo), 10-1
Maryland Magic (Helen Vanek), 8-1
Countrys Comin Bac (Cassandra Jeschke), 8-1
Rey Of The Night (Cory Spataro), 12-1
Spy For The Senate (Brian Bell), 10-1
El Picov Maturity, y todas las carreras de Ajax Downs, se pueden ver en Q-RacingVideo.com.