RACING ESTA SEMANA
CARACTERISTICAS
SERVICIOS
Home
>
Preview Racing
>Subcampeon en Two Million Futurity Hace Debut en Vandy's Flash Handicap
Cattail Cove, finalista en el Los Alamitos Two Million, regresa a la acción en Vandy's Flash Handicap de $25,000 a 400 yardas el Domingo.

© Scott Martinez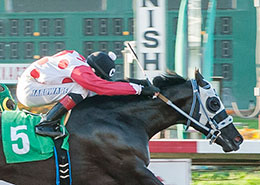 Subcampeon en Two Million Futurity Hace Debut en Vandy's Flash Handicap
LOS ALAMITOS, CA — 28 DE JUNIO DE 2020—
Cattail Cove de Link Newcomb volverá a la acción por primera vez desde que quedó segundo en el Grado 1, $1.9 millones Los Alamitos Two Million Futurity el 15 de Diciembre cuando lidera un campo de siete en el $ 5,000 Vandy's Flash Handicap a 400 yardas el Domingo.
Cattail Cove tuvo una campaña como dos añero altamente productiva, ya que el caballo castrado ganó tres de siete salidas y también ocupó el tercer lugar en el Governors Cup Futurity. Entrenado por Juan Alemán, el caballo castrado hijo de Favorite Cartel trabajó a 220 yardas en: 12.40 en preparación para esta carrera el 13 de Junio. Podría ser un precio medio en el tablero, ya que se enfrentará a los ganadores de clásicos de 2020 John Carter Cash y Up And Coming.
John Carter Cash de Juan Ramos será uno de los favoritos en el Vandy's Flash después de anotar una victoria por un cuerpo en el Dillingham Handicap el 16 de Mayo. El hijo de Carters Cartel salió volando de las puertas desde la posición numero cuatro y disfrutó la distancia de 400 yardas en su cuarta victoria de carrera.
Saldrá de la misma posición número cuatro este Domingo y será imbatible si repite su esfuerzo de Dillingham.
Up and Coming, entrenado por Chris O'Dell, es el otro contendiente principal después de su tercer lugar en el Dillingham y su sólida tercera victoria de regreso en el James Smith Handicap el 15 de Abril. También corrió en el Two Million el año pasado, corriendo noveno al campeón Cartel Jess Rockin esa noche.
* * * * * * * * * * * * * *
Cortesía de www.losalamitos.com.