RACING ESTA SEMANA
CARACTERISTICAS
SERVICIOS
Serendipity Rocks hará su debut de temporada de 5 años en el King William Stakes de $30,000 a 350 yardas el Sábado en Retama Park.

© Dustin Orona Photography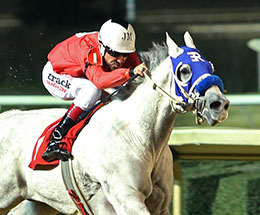 Retama Park Presenta Triple Clásicos
POR MICHAEL CUSORTELLI
SELMA, TX — 29 DE JUNIO DE 2020— Retama Park ha acumulado tres clásicos de $30,000 en su programa de vacaciones de 4 carreras del 4 de Julio. La hora de publicación para la primera carrera está programada para las 6:45 pm (CDT).
Serendipity Rocks de Sarah Huskey, un hijo criado en casa de Rock Solid Jess entrenado por Esteban Rubio, hará su debut de temporada de 5 años en el King William Stakes de $30,000 a 350 yardas el Sábado. El caballo castrado terminó su campaña de 2019 con dos victorias en Lone Star Park, incluyendo el BF Phillips Jr. Stakes (R) de $25,000 a 400 yardas el 8 de Noviembre.
Serendipity Rocks saldrá de la posición numero 5 y será montado por Gaspar García.
La alineación completa del King William Stakes, en orden de posiciones de puertas, incluyendo asignaciones de jinete:
Carry The Memories (Ricardo Garza-Cruz)
Woulda (Jose I. Martinez)
Jess Master Angel (Damien Martinez)
Temptingsecretfly (Victor M. Urieta Jr.)
Serendipity Rocks (Gaspar Garcia)
Pa Ching Ching (J.R. Ramirez)
Mi Amor Secreto (Eliazar T. Vera)
Krash Course (Pedro C. Espinosa)
Mpshinning (Nestor Duran)
Kiss My Whuut (Juan Pulido)
También el Sábado, Viva Le Don, de Rockin J Running Horses, es uno de los 10 especialistas de media distancia que entraron al Tower of the Americas Stakes de $30,000 a 550 yardas. Entrenado por Tammy Johnson, el castrado de 4 años de edad Rock Solid Jess, recientemente ocupó el tercer lugar en el $72,000 Bank of America Oklahoma Championship Challenge (G2) a 440 yardas en Remington Park, y fue finalista en tres derbies de grado el año pasado, incluyendo el $345,000 Texas Classic Derby (G1) a 440 yardas en Lone Star Park. Viva Le Don saldrá de la posición numero 5 y será montado por José Vega.
Nueve distaffers entraron al $30,000 Selma Stakes a 350 yardas el Sábado. SS Classyjess, una hija de 4 años de edad de Rock Solid Jess propiedad de Edgar Rosales y entrenada por Jose Carrizales, saldrá de la posición numero 7 y será montada por Juan I. García. La yegua ganó dos de sus cuatro carreras durante la temporada de invierno en Louisiana Downs, incluyendo el Swift Stakes de $15,000 a 350 yardas el 25 de Enero.
Todas las carreras de Retama Park se pueden ver en Q-RacingVideo.com.