RACING ESTA SEMANA
CARACTERISTICAS
SERVICIOS
Home
>
Preview Racing
>Eliminatorias Hacia Lee Berwick Futurity Con 171 Juveniles Criados En Louisiana
El ganador del Laddie Futurity (RG2), Sir Louisiana Dash, se encuentra entre los dos días de aspirantes en prueba hacia el Lee Berwick Futurity (RG1) de $1,025,782 en Delta Downs.

© Coady Photography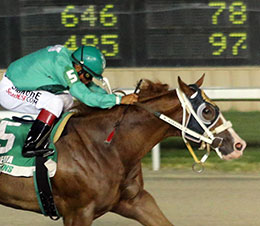 Eliminatorias Hacia Lee Berwick Futurity Con 171 Juveniles Criados En Louisiana
POR MICHAEL CUSORTELLI
VINTON, LA — 27 DE JULIO DE 2020— Un total de 171 dos añeros criados en Louisiana, encabezados por los ganadores de clásicos de grado, El Camino CL y Sir Louisiana Dash, se inscribieron en las pruebas de este fin de semana para el Lee Berwick Futurity ( RG1) de $1 Millon en Delta Downs.
Veinte pruebas en 350 yardas están cardadas, 10 el Viernes y 10 el Sábado. El primer horario cada noche es a las 6:15 pm (CDT).
Sir Louisiana Dash, un hijo de Sir Runaway Dash entrenado por Jesús M. Márquez para el propietario Rogelio Márquez Jr., se extenderá en la distancia de su victoria de medio cuerpo en el Laddie Futurity de 330 yardas y Louisiana Breeders' Laddie Futurity (RG2 ) de $358,000 en Delta Downs el cuatro de Julio.
Sir Louisiana Dash ha ganado sus dos salidas y ha ganado $184,990. El caballo castrado llegó al puesto 7 y será montado por Antonio Alberto en la décima eliminatoria del Viernes.
El Camino CL es un potro por Heza Fast Dash para Delfino Lozano IV del establo del entrenador José Luis Sánchez III. El Camino CL ha acumulado $187,223 de cuatro salidas, y sus tres victorias incluyen una victoria con cuello en el Mardi Gras Futurity (RG2) de 300 yardas y $315,000 en Louisiana Downs en Marzo.
El Camino CL empató en el puesto 2 y será montado por Eddie Sánchez en la primera serie del Sábado.
Otros prominentes de 2 añeros criados en el estado que participaron en las eliminatorias hacia el Lee Berwick Futurity incluyen Ought To Go Tee de Jose U. Oviedo y Denalia Sweet Jess de Jose H. Rodriguez. Un hijo castrado de Tee Cos entrenado por Fernando López, Ought To Go Tee viene de un segundo lugar detrás de Sir Louisiana Dash en el Laddie Futurity.
Ought To Go Tee será montado por Rolando Cabrera desde el puesto 4 en la octava eliminatoria del Viernes.
Denalia Sweet Jess será montada por Modesto Pina desde el puesto 8 en la tercera eliminatoria del Viernes. Una compra de $9,000 en la venta de añales de Louisiana QHBA, el potro por One Sweet Jess es entrenado por Wendy García para el propietario José H. Rodríguez, y su récord incluye un tercer lugar, un cuello detrás del ganador El Camino CL, en el Mardi Gras Futurity.
Los cinco calificadores más rápidos de cada noche se enfrentarán en la final del 22 de Agosto, Lee Berwick Futurity (RG1).
Todas las carreras de Delta Downs se pueden ver en Q-RacingVideo.com .