RACING ESTA SEMANA
CARACTERISTICAS
SERVICIOS
Home
>
Preview Racing
>Last Chance Dash Evento Principal en Tarjeta de 8 Carreras el Domingo
El ganador del Far West Futurity, The Best Feeling, encabezará el Last Chance Dash de $15,000 a 110 yardas el Domingo por la noche en Los Alamitos.

© Vince & Linda Williams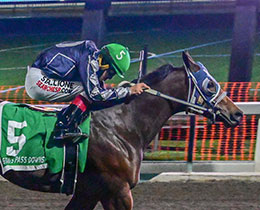 Last Chance Dash Evento Principal en Tarjeta de 8 Carreras el Domingo
LOS ALAMITOS, CA — 20 DE DICIEMBRE DE 2020—
Ocho juveniles se reunirán para el evento clásico final de 2020 en el Last Chance Dash de $15,000 a 110 yardas el Domingo por la noche en Los Alamitos.
El campo es atractivo encabezado por The Best Feeling de Jaime Gómez y Juan Sevilla, quien le dio a su padre Docs Best Card su primer ganador de clásicos cuando ganó el Far West Futurity de $60,000 el 9 de Noviembre.
The Best Feeling fue tremendo en sus dos salidas en Grants Pass, ganando su prueba de futurity allí por dos cuerpos antes de ganar la final a 350 yardas por ¾ de cuerpo. The Best Feeling siempre ha salido rápido de las puertas, por lo que esta distancia debe ajustarse muy bien a sus puntos fuertes. Oscar Peinado montará al corredor criado por Lisa Anderson.
La Reina Del Sur 1 de Abel Reyes tiene una velocidad increíblemente rápida como parte de su arsenal y debería ser una de las principales contendientes aquí también. Terminó por delante del talentoso Monopolist en el California Breeders Freshman Stakes el 25 de Julio, pero tuvo un viaje problemático cuando fue quinta en el Corona Chick Handicap en su última salida.
Adan Farias, ganador de 1,085 carreras de Caballos Cuarto de Milla en su carrera en Los Alamitos, está entrenando de nuevo en el óvalo del Condado de Orange y su primer arrancador fue La Reina del Sur 1.
Después de estar fuera de la pista desde Noviembre de 2011, Farias saldrá aquí con una pequeña cuadra de corredores, siendo uno de los nuevos nombres más destacados en el área del granero para esta próxima temporada.
Su cuadra eventualmente incluirá varios años que compró en nombre de sus clientes en la Venta Equina Los Alamitos en Octubre pasado. Juan Pablo León, quien condujo La Reina Del Sur 1 a la victoria en California Breeders Freshman Stakes, estará de regreso a bordo de la potranca hija de Favorite Cartel en el Last Chance Dash.
Single Brad, tres veces ganador y finalista del Governor's Cup Futurity, además de Cartels Legacy, que también llegó al campo del Governor's Cup, se encuentran entre los otros principales contendientes en este evento.
Interragator, Perrys Everlasting, Makalerina y Leah Carroll completarán el campo.
* * * * * * * * * * * * * *
Cortesía de www.losalamitos.com.