RACING ESTA SEMANA
CARACTERISTICAS
SERVICIOS
El locutor retirado de Mewly, Los Alamitos, Ed Burgart, aparecerá en el podcast de StalliioneSearch.com ''QH Racing Talk With Greg and Freddy'' el Miércoles.

© Greg Thompson / StallioneSearch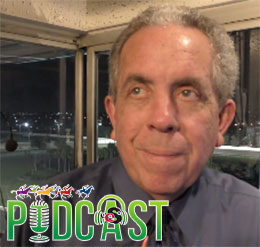 QH Racing Talk Podcast: El Episodio de Ed Burgart Se Estrena El Miércoles
DALLAS, TX — 23 DE MARZO DE 2020—
StallioneSearch.com continúa con su nuevo formato de noticias de carreras Cuarto de Milla con el lanzamiento el Miércoles del episodio 4 del nuevo programa de entrevistas podcast en StallioneSearch titulado ''QH Racing Talk With Greg and Freddy.''
El episodio 4 en StallioneSearch presentará una discusión con el legendario y ahora retirado locutor de pista Ed Burgart. El nativo de Arizona, que había convocado carreras durante 39 años antes de su retiro, habla sobre los legendarios entrenadores, jockeys y caballos que se consideran algunos de los mejores de todos los tiempos en el deporte de las carreras Cuarto de Milla.
Para ver la vista previa del video del próximo episodio podcast de: QH Racing Talk With Greg and Freddy, HAGA CLIC AQUÍ .
''QH Racing Talk with Greg and Freddy'' es co-presentado por Greg Thompson de StallioneSearch y Freddy Carmona de StallioneSearchesp.com. El formato del espectáculo estará diseñado para incluir invitados especiales de importancia de la industria Cuarto de Milla para participar en la discusión de varios temas relacionados con el Cuarto de Milla.