RACING ESTA SEMANA
CARACTERISTICAS
SERVICIOS
Se espera que el ganador del Ed Burke Million Futurity, Chance To Excel, se descansado por un mínimo de aproximadamente seis meses.

© Scott Martinez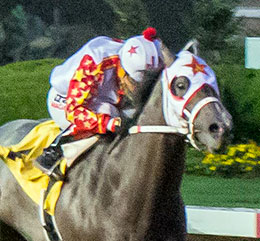 Ganador de Grado 1 Chance To Excel a Someterse a Operacion
LOS ALAMITOS, CA — 27 DE JUNIO DE 2020—
Chance To Excel de la cuadra de Valeriano Racing, el ganador del Grado 1 Ed Burke Million Futurity el 21 de Junio y el mejor juvenil de la costa oeste, se someterá a una operación en la rodilla izquierda el Sábado por la mañana y probablemente se perderá la temporada de carreras 2020, dijo el entrenador Monty Arrossa.
Dr. Wayne McIlwraith realizará la operación para extraer un chip de hueso de la rodilla izquierda del caballo.
"Supongo que se perderá el resto de esta temporada", dijo Arrossa sobre el cometa Chance to Excel. 'Veremos Chance To Excel para su año de 3 años. Es un rompecorazones. Son los máximos más altos y los mínimos más bajos. Vamos a hacer lo mejor para el caballo. No hay duda, el caballo es lo primero'.
Chance To Excel ganó tres de sus primeras cuatro salidas, incluyendo una victoria por tres cuartos de cuerpo en el Ed Burke Million Futurity de $1,115,000. También ganó su prueba de Ed Burke por luz, mientras registraba el tiempo de calificación más rápido de: 17.31, que es el cronometraje más rápido a 350 yardas de un 2 añero aquí desde Junio de 2014. Después de la victoria de Ed Burke, Arrossa dijo que Chance To Excel iba a descansar e ir al Golden State Million Futurity en Noviembre. Ahora tendrá vacaciones y rehabilitación prolongadas.
Apollitical Patty ha cumplido el tiempo más rápido a 300 yardas de 2 añero
Con Chance To Excel fuera de acción durante lo que parece ser un mínimo de seis meses, 2 añera de Arrossa en Los Alamitos ahora estará a cargo de la potra hija de Apollitical Blood, Apollitical Patty.
Una media hermana del campeón Zoomin For Spuds, Apollitical Patty de Walker Family Trust mejoró su récord a un perfecto dos por dos después de ganar un evento allowance a 300 yardas el Viernes por la noche por un cuerpo y medio en un tiempo de: 15.416. Su tiempo ganador es el más rápido de la temporada para un 2 añero, mejorando el tiempo de: 15.446 registrado por Single Brad de Ed Allred el 23 de Mayo.
"A ella le gusta ir", dijo Arrossa. 'Ella es elegible para Bitterroot Futurity, pero hemos decidido dejarla aquí. La hemos pagado al Bank of America AQHA Racing Challenge. Luego irá a la pruebas para el Golden State Million Futurity y al Los Alamitos Two Million Futurity. El plan es llevarla al John Deere California Juvenile a continuación.
* * * * * * * * * * * * * *
Cortesía de www.losalamitos.com.