RACING ESTA SEMANA
CARACTERISTICAS
SERVICIOS
Whistle Stop Cafe, bajo el mando del jinete campeón Ricky Ramirez, conduce hacia la victoria en el Grado 1, All American Futurity de $3 millones el Lunes por la tarde en Ruidoso Downs.

© Ernesto Salinas / StallioneSearch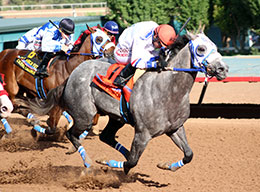 Sementales de Louisiana Dominan Carreras All American 2020 el Día de Trabajo
RUIDOSO DOWNS, NM — 10 DE SEPTIEMBRE DE 2020
Los sementales
Freighttrain B
y
Coronas Leaving You
Louisiana engendraron a los ganadores del All American Futurity (G1) de $3 millones y del All American Juvenile de $200,000 el Día del Trabajo (Lunes) en Ruidoso Downs .
Whistle Stop Cafe, la hija invicta de Freighttrain B, logró su sexta victoria en la misma cantidad de salidas cuando se impuso a Instygator para ganar el All American Futurity de $3 millones para el propietario Whitmire Ranch. Graduada por $42,000de la Venta de Añales Heritage Place fue criada en Oklahoma por el criador campeón de Carreras AQHA Bobby D. Cox.
Ensillada por el entrenador campeón G. Blane Wood, la potra gris hija de la yegua hija de Mr Jess Perry, Sinuous, le dio al jinete campeón Ricky Ramirez su primera victoria en el All American Futurity (G1). Ha ganado $1,974,986 esta temporada.
En el All American Juvenile de $200,000, la carrera clásica en el programa del Día del Trabajo de Ruidoso Downs, Eye Work For You derrotó a Dulce Sin Tacha para llevarse a casa el bolso ganador valorado en $80,000. La hija del padre campeón Coronas Leaving You ha ganado cuatro de seis carreras esta temporada y acumuló $465,466.
También criada en Oklahoma, por José Acosta, Eye Work For You corre para el propietario José Guzmán y es entrenada por Jaime Hernández. El jinete campeón James Flores estaba a bordo de la potranca hija de la yegua hija de Mr Eye Opener, Eye Love It. A principios de año, Eye Work For You ganó el Remington Park Oklahoma-Bred Futurity de $891,900.
Flash Bak, 2 añero hijo del padre en primera camada Moonin The Eagle, tuvo un viaje problemático en el All American Futurity de $3 millones, cuando se vio obligado entrar y el jinete Jesús Ayala tuvo que controlar al caballo castrado alazán propiedad de Dutch Masters III. El potro entero entrenado por John Stinebaugh se clasificó para el All American Futurity al terminar por medio cuerpo detrás de la eventual ganadora Whistle Stop Cafe en las pruebas del 21 de Agosto. Ganó $105,000 por terminar séptimo.
Hijo de la yegua hija de Check Him Out, Checknbac, Flash Bac ha compilado un récord (5) 2-1-0 y ganó $114,785 esta temporada.
* * * * * *
Los tres toros, Freighttrain B , Coronas Leaving You y Moonin The Eagle están de pie en Hart Farms en Kaplan, Louisiana. Para obtener información adicional o contratos de cría, llame al (337) 643-3255.