RACING ESTA SEMANA
CARACTERISTICAS
SERVICIOS
El episodio 2 de 'The Making Of A Sire - Gold Eagle Heart V' ya está disponible en StallioneSearch.com.

© StalioneSearch / Greg Thompson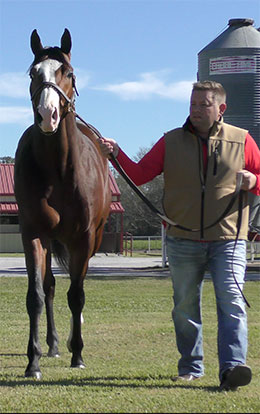 The Making Of A Sire: Gold Heart Eagle V - Episodio 2 (VIDEO)
DALLAS, TX — 11 DE ENERO DE 2021—
StallioneSearch.com lanza el Episodio 2 de su serie de cortometrajes "The Making of a Sire" sobre el recientemente retirado ganador del All American Derby (G1)
Gold Heart Eagle V
, quien está listo para comenzar su carrera como semental en
Robicheaux Ranch, Inc.
en Breaux Bridge, Louisiana el próximo mes.
El cortometraje, escrito y producido por Greg Thompson de StallioneSearch, narra cómo el principal prospecto de toros se retira de su impresionante carrera mientras se prepara para ingresar a la carrera de semental en Louisiana en 2021.
La serie de videos de varias partes explora la impresionante carrera de Gold Heart Eagle V en entrevistas con el ex propietario Sammy Valeriano, el jinete campeón de carreras AQHA James Flores, el entrenador líder de ganadores de dinero en 2021 Monty Arrossa y el gerente de sementales Robicheaux Ranch Ryan Robicheaux.
Simmons Racing compró el ganador de Grado 1 en Octubre.
HAGA CLIC AQUÍ para ver el Episodio 2 de The Making Of A Sire: Gold Heart Eagle V.
* * * * * * * * * * * * * * * * *
El cortometraje es un anuncio pagado por las conexiones de Gold Heart Eagle V. El hijo ganador de Grado 1 del padre líder One Famous Eagle se retiró a su carrera de semental con ganancias de $530,883. Gold Heart Eagle V ganó el $1,078,098 Grado 1 All American Derby y terminó tercero en el $710,414 Grado 1 Rainbow Derby (G1) en 2020.