RACING ESTA SEMANA
Additional Challenges

Current Nominees and Sustaining Payments
CARACTERISTICAS
SERVICIOS
Las inscripciones para el Challenge vencen el Martes 31 de Diciembre.

© Coady Photography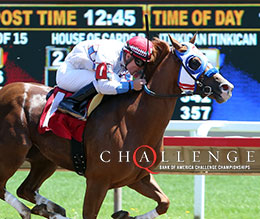 Inscripciones de AQHA Racing Challenge Vencen el 31 de Diciembre
AMARILLO, TX — 21 DE NOVIEMBRE DE 2019—
Se recomienda a los obtentores que obtengan sus inscripciones de AQHA Racing Challenge 2019 para los destetes (potros de 2019) antes del Martes 31 de Diciembre.
Los caballistas pueden inscribir a sus potros de 2019, así como a cualquier añal (potros de 2018), 2 añeros (potros de 2017) y 3 añeros en adelante que no se hayan inscrito previamente.
Las tarifas de inscripción para el Challenge antes del 31 de Diciembre son:
Weanlings (potros de 2019) - $300
Añales (potros de 2018) - $600
2 añeros (potros de 2017) - $8,000
3 añeros y mayores: $20,000
La inscripción única hace que el caballo sea elegible para competir en las carreras Challenge de Bank of America a lo largo de la carrera del animal.
HAGA CLIC AQUÍ para descargar un Formulario de inscripción del Bank of America Challenge.
Los caballos deben estar registrados y, si no, la inscripción debe estar acompañada de una solicitud de registro o un registro debe estar pendiente en la oficina de AQHA. Los caballos ya no se pueden inscribir solo con el padre, la madre y la fecha de nacimiento.
Si el caballo ya está registrado o hay un registro pendiente en la oficina de AQHQ, los propietarios pueden llamar a la línea directa del desafío al 877-222-7223 para inscribirse.
Para obtener información adicional sobre el programa AQHA Bank of America Racing Challenge, visite el sitio web de la asociación en www.aqha.com/bank-of-america-racing-challenge .
Los caballistas también pueden llamar a la línea directa Challenge al 877-222-7223 o enviar un correo electrónico a mreed@aqha.org si tienen preguntas adicionales.