RACING ESTA SEMANA
Additional Challenges

Current Nominees and Sustaining Payments
CARACTERISTICAS
SERVICIOS
El calendario del Bank of America Regional Challenge 2020 ya está disponible.

© Coady Phtography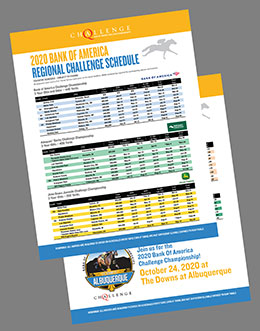 Calendario del Bank of America Regional Challenge 2020 ya Está Disponible
AMARILLO, TX — 13 DE DICIEMBRE DE 2019—
La Asociación de Caballos Cuarto Americano American lanzó el calendario del 2020 Bank of America Regional Challenge esta semana.
El programa regional ofrecerá al menos 10 carreras por división, con la excepción normal de la división a Distancia.
Como siempre, las carreras regionales del Bank of America Challenge culminarán en los Bank of America Challenge Championships. En 2020, The Downs en Albuquerque, Nuevo México, organizará el evento del campeonato por segunda vez consecutiva. Está programado para el 24 de Octubre de 2020.
Las nominaciones para las carreras regionales comenzarán el 1 de Enero para las carreras programadas en Rillito Park y continuarán hasta el 15 de Julio de 2020 para las carreras regionales en Will Rogers Downs.
HAGA CLIC AQUÍ para descargar el Calendario Challenge Regional 2020.