RACING ESTA SEMANA
Additional Challenges

Current Nominees and Sustaining Payments
CARACTERISTICAS
SERVICIOS
El ganador de clásicos Pirate Coves Hero encabezará dos pruebas el Sábado para el Bank of America Rillito Championship Challenge a 440 yardas en Rillito Park.

© Coady Photography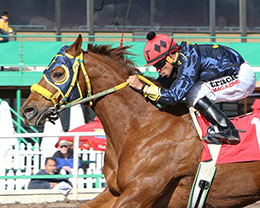 Once Entraron a Pruebas para Bank of America Rillito Championship Challenge
POR MICHAEL CUSORTELLI
TUCSON, AZ — 27 DE FEBRERO DE 2020— Pirate Coves Hero, un caballo castrado alazán hijo de Valiant Hero propiedad de Julio Torres, hará su debut de temporada de 6 años en las pruebas el Sábado para el Bank of America Rillito Championship Challenge a 440 yardas en Rillito Park.
Pirate Coves Hero viene de una victoria de cable a cable por uno y tres cuartos de cuerpo en el $10,000 Turf Paradise Championship a 440 yardas el 29 de Diciembre. El caballo castrado ganó tres de siete salidas y ganó $59,954 el año pasado, y su récord incluyó un cuarto lugar, por cuello detrás del ganador SF Hot Pass, en el Bank of America Challenge Championship (G1) a440 yardas el 26 de Octubre en Albuquerque Downs.
Pirate Coves Hero saldrá de la posición lejana y será montado por Albert Medrano para el entrenador Pedro Soto en la segunda de dos pruebas.
Los 10 clasificados más rápidos se enfrentarán en la final de $40,000 añadidos el 22 de Marzo.
Todas las carreras de Rillito Park se pueden ver en Q-RacingVideo.com.