RACING ESTA SEMANA
Additional Challenges

Current Nominees and Sustaining Payments
CARACTERISTICAS
SERVICIOS
Captain Mazurk registró el mejor tiempo el Sábado para el Bank Of America Rillito Park Championship Challenge de $40,000 en Rillito Park.

© Coady Photography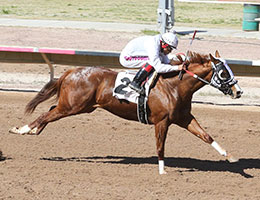 Captain Mazurk Superior En Pruebas Hacia Bank of America Rillito Park Championship Challenge
TUCSON, AZ — 29 DE FEBRERO DE
2020— Captain Mazurk, una hija de 4 años del padre Grado 1,
Captain Courage
, logró una fácil victoria de 2 cuerpos y ¼ en la primera de las dos pruebas de hoy para el Bank of America Rillito Park Championship Challenge estableciendo la mejor calificación.
Los 10 calificadores más rápidos, de 11 que compitieron en dos pruebas en Rillito Park, regresarán al hipódromo de Arizona el Domingo 22 de Marzo para competir por la parte ganadora del bolso agregado de $40,000 y ganar el primer espacio hacia competir en el Grado 1, Bank of America Championship Challenge de $250,000 (G1) cual se disputará el 24 de Octubre en Albuquerque Downs.
Montado por el jockey Erick Valenzuela, Captain Mazurk corrió sobre el recorrido de 440 yardas en: 21.455 segundos, ganando con un 114 en índice de velocidades en una superficie de carreras rápida sin viento. Fue la tercera victoria en 13 salidas para la potranca alazána.
Propiedad de y entrenado por Eric Valenzuela, Captain Mazurk ha depositado $15,059 en tres temporadas de carreras. Tyler Ranch LLC crió a la potranca en California desde la yegua por Tr Dasher, Napa Valley Girl.
Después de una victoria en de Turf Paradise QH Championship Stakes en su última salida el 28 de Diciembre, Pirate Coves Hero ganó la segunda prueba por 1 cuerpo y ½ para obtener el segundo mejor tiempo de: 21786 segundos, lo que equivale a un 106 en índice de velocidades.
Pedro Urias Soto condiciona al hijo ganador de clásicos de Valiant Hero para el propietario Juilo Torres. Criado en Oklahoma por Reliance Ranches LLC, Pirate Coves Hero compiló un récord de (19) 8-2-1 y ganó $102,681. Albert Medrano estaba montando.
Para obtener una lista completa de calificadores, tiempos,pedigri, propietarios, criadores, entrenadores y jockey, HAGA CLIC AQUÍ .
Nota del editor: se publicará una foto de esta carrera cuando esté disponible para el fotógrafo de la pista.