RACING ESTA SEMANA
Additional Challenges

Current Nominees and Sustaining Payments
CARACTERISTICAS
SERVICIOS
Rillito Park será el anfitrión de dos pruebas el Domingo para el John Deere Juvenile Challenge de $30,000 agregados.

© Coady Photography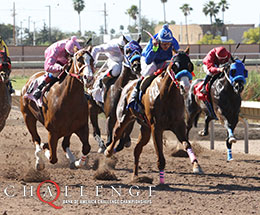 Rillito Park Organiza dos Pruebas para John Deere Juvenile Hoy
TUCSON, AZ —1 DE MARZO DE 2020—
Trece, 2 añeros inscritos al Challenge debutarán hoy (Domingo) en dos pruebas para el John Deere Rillito Park Juvenile en Rillito Park. Horario de primera publicación está programada para la 1:30 pm (MST). Las pruebas se ejecutarán como carreras 7 y 8.
Los 10 clasificados más rápidos volverán el Domingo, 22 de Marzo para competir por la parte ganadora del bolso de $30,000 agregados y para obtener el primer lugar al Grado 2, 2020 $125,000-est. John Deere Juvenile Challenge Championship (G1) que se disputará el 24 de Octubre en Albuquerque Downs.
Siete de los 13, 2 añeros programados para competir en las pruebas para el John Deere son graduados de ventas de verano.
Cc Revv Her, hija del padre lider Corona Cartel y de la yegua hija de First Down Dash, Revv It Up, encabezará la primera prueba para el propietario José Mendoza y el entrenador Eloy Navarro. El jinete Luis Valenzuela montará al graduado por $41,000 de la Venta Selecta de Añales de Ruidoso desde la posición numero 5.
Saliendo de la posición numero 4 un graduado de la Venta de Ruidoso All Red No Blue, propiedad de Mendoza y entrenado por Navarro. El hijo del padre campeón Apollitical Blood y de la yegua First Prize Paris, hija de Mr Jess Perry.
Mendoza y Navarro se unen nuevamente en la Carrera 8 con el graduado de la Venta de Añales Heritage Place, Wagon of Speed. Kevin Carbajal montará al hijo de $30,000 del Padre Lider Pyc Paint Your Wagon desde la posición exterior. Wagon Of Speed es hijo de la yegua hija de Duel Fuel, Significant Speed.
Todas las carreras de Rillito Park se pueden ver en Q-RacingVideo.com.