RACING ESTA SEMANA
Additional Challenges

Current Nominees and Sustaining Payments
CARACTERISTICAS
SERVICIOS
Wagon Of Speed (Número 7) registró el mejor tiempo en el John Deere Rillito Juvenile Challenge el Domingo.

© Coady Photography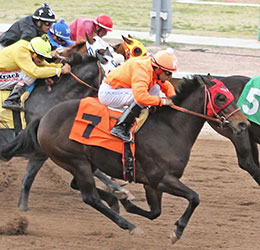 Añales de Subasta de Verano Dominan Eliminatorias Hacia John Deere Rillito Juvenile
TUCSON, AZ —1 DE MARZO DE 2020—
Un par de añales de la subasta de verano ganaron sus pruebas y registraron los dos mejores tiempos de calificación el Domingo por la tarde para el John Deere Rillito Juvenile Challenge en Rillito Park.
Los 10 calificadores más rápidos regresarán a Rillito Park el Domingo 22 de Marzo para competir por la parte ganadora del bolso agregado de $30,000, así como para obtener el primer lugar en el Grado 2, John Deere Juvenile Challenge Championship (G1) de $125,000 cual se disputará el 24 de Octubre en Albuquerque Downs.
Wagon Of Speed, un graduado en $30,000 del Heritage Place Sale Year Year Sale, ganó la segunda prueba bajo el mando de Kevin Cabajal para obtener el mejor tiempo de calificación de: 18.834 segundos. El hijo del padre principal Pyc Paint Your Wagon compite para el dueño José Mendoza y el entrenador Eloy Navarro.
Blackwater Bengal ganó su eliminatoria pero fue descalificado y quedó en quinto lugar por interferencia.
Wagon Of Speed, fuera de Significant Speed por Duel Fuel, estaba comenzando su primera carrera. Reliance Ranches crió al potro en Oklahoma.
Mendoza y Navarro se unieron para calificar a otros dos finalistas para el John Deere Juvenile. Charlies Fast Man califico en el 4to lugar más rápido y All Red No Blue obtuvo el décimo y último lugar. Ambos son hijos del campeón y el padre campeón Apollitical Blood .
La primera prueba fue para Avenger B de Juan Clark, un graduado en $8,000 del Heritage Place Yearling Sale condicionado por Havid Canez que detuvo el reloj en: 18.421 segundos por el segundo tiempo más rápido. Bielau Oaks crió al caballo castrado en Texas desde su yegua por Seperatist, Sierra Madre B. Elias Gutiérrez estaba montando.
Canez también ensilló la sexta calificación más rápida Run Away And Hide, y la octava más rápida Zooming For Kappie, un hijo castrado del padre Capo de Capi .
Para obtener una lista completa de los calificadores, tiempos, pedigrí, propietarios, criadores, entrenadores y jockeys hacia el John Deere Juvenile HAGA CLIC AQUÍ .
Nota del editor: se publicará una foto de esta carrera cuando esté disponible para el fotógrafo de la pista.