RACING ESTA SEMANA
Additional Challenges

Current Nominees and Sustaining Payments
CARACTERISTICAS
SERVICIOS
Ms. Esther buscará su primera victoria del AQHA Distance Remington Challenge (G2) si puede calificar en dos pruebas el Sábado por la noche.

© Dustin Orona Photography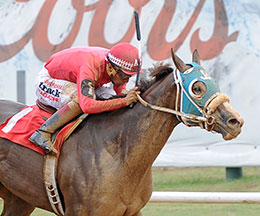 Ms Esther Encabeza AQHA Remington Distance Challenge Trials
POR MICHAEL CUSORTELLI
OKLAHOMA CITY, OK -— ABRIL9, 2020— Ms. Esther, una hija de 6 años de Afrashad (TB) propiedad de Jordan Baumann y entrenada por Jordan Baumann, es una de las 10 especialistas a distancia que participaron en las 870 yardas de las eliminatorias hacia el AQHA Remington Distance Challenge (G2) en Remington Park.
Ms. Esther viene de un cuarto lugar, 4 cuerpos y 1/4 detrás del ganador Let There Be Sound, en el Pauls Valley Stakes (G3) de 870 yardas el 2 de Abril. En total, la yegua ha ganado ocho de 15 salidas - incluyendo siete de 12 a la distancia de 870 - y ella ha ganado $162,187.
Ms. Esther ganó dos clasicos en 870 yardas durante el encuentro de Remington en 2019 y quedó en segundo lugar en el Campeonato AQHA Distance Challenge (G1) de 870 yardas y $104,500 en Albuquerque Downs el 26 de Octubre en la segunda de dos pruebas.
Los cuatro oponentes de Ms. Esther en la primera serie incluyen a Madewell, un hijo castrado Jess Jones de 6 años entrenado por Bernard Baca para los propietarios Ray Madewell y Davy Madewell. Madewell hará su debut en la temporada después de una campaña de 5 años durante la cual acumuló $82,188 en ocho salidas y obtuvo una victoria de medio cuerpo en el Campeonato de Distancia Remington (G2) de 870 yardas y $50,000 el día de cierre del 2019 reunirse.
Madewell arrancara de la puerta 5 y será montado por Stormy Smith.
Después de una victoria en el Covered Wagon Stakes (G3) en Prairie Meadows el otoño pasado, The Louisiana Dream se enfrentará a cinco rivales en la segunda prueba (carrera 3). Manuel Campos ensillará al hijo del padre campeón The Louisiana Cartel para los propietarios Denise y Ronald Van Amburgh y Hugo Sierra Barron.
JE Jumonville crió al caballo castrado de 6 años en Louisiana desde la yegua por Apollo (TB), In His Dreams. Francisco Giles ha sido nombrado para montar la ganancia de $42,598 desde la posición posterior.
No es ajeno a la serie Challenge Distance, la ganadora de múltiples clásicos de Rockin J Running Horses, Jess A Hilbily Bone. El hijo de 9 años de Rock Solid Jess. Tammy Kay Johnson condiciona a el criado en Texas ganador de más de $223,700.
Durante su carrera de 8 años, ha competido en al menos cinco finales regionales del Challenge de distancia, incluido el tercer puesto en el Remington Park Distance Challenge en 2015. Travis Cunningham correrá desde el puesto 4.
Los ocho calificadores más rápidos de las pruebas del Sábado se enfrentarán el 26 de Abril en el AQHA Remington Distance Challenge de $40,000 est.
Todas las carreras de Remington Park se pueden ver en Q-RacingVideo.com .