RACING ESTA SEMANA
Additional Challenges

Current Nominees and Sustaining Payments
CARACTERISTICAS
SERVICIOS
Actualizaciones sobre los cambios en las carreras del Bank of America Racing Challenge debido a la pandemia COVID-19.

© Coady Photography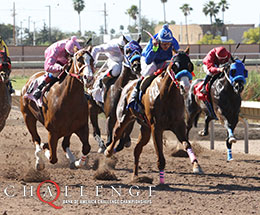 Actualizaciones de la Pandemia COVID-19 para Carreras Challenge
Q RACING —10 DE ABRIL DE
2020— La pandemia global de COVID-19 está causando cambios significativos e incertidumbre, y el mundo de las carreras de Caballos Cuarto de Milla en Estados Unidos está teniendo muchos ajustes.
La información relacionada con COVID-19 está disponible en la página de carreras de AQHA, incluida información sobre asistencia para pequeños negocios y actualizaciones de temporadas.
Se han realizado cambios en las carreras regionales del Bank of America Racing Challenge, y los empleados de AQHA están trabajando estrechamente con los empleados de pista en estos eventos.
"Están sucediendo muchas cosas con las carreras regionales Challenge, y me gustaría que la gente sepa que estamos buscando soluciones de manera proactiva", dijo la directora de carreras de AQHA, Janet VanBebber. "Muchas de estas decisiones aún se están tomando, pero estamos trabajando activamente en ellas e informaremos a nuestros caballistas tan pronto como sea posible".
Cambios conocidos actualmente:
El 21 de Marzo, John Deere Rillito Juvenile Challenge y el Bank of America Challenge Championship - realizaron pruebas pero no pudieron correr la final. En este momento, los funcionarios todavía están tratando de reprogramar estas carreras.
El 2 de Mayo Adequan® Sun Downs Derby Challenge y el 3 de Mayo ARC Sun Downs Distaff se han trasladado a Weber Downs en Ogden, Utah, debido a la cancelación de la temporada de Sun Downs. Los pagos atrasados se aceptarán hasta el 15 de Abril. Ambas carreras ahora tendrán pruebas programadas para el 5 de Mayo y finales para el 24 de Mayo.
Las carreras regionales que todavía están tratando de reprogramarse incluyen el

24 de Mayo Adequan® Pocatello Derby Challenge
29 de Mayo Adequan® Sam Houston Derby Challenge
29 de Mayo John Deere Sam Houston Juvenile Challenge
Se está trabajando en información sobre otras carreras, y tan pronto como se conozcan los detalles, se notificará a caballistas. Visite aqha.com/racing para obtener la información más actualizada a medida que esté disponible.
Para otras preguntas, llame a la línea directa del desafío al 877-222-7223.
* * * * * * *
Para obtener las últimas noticias sobre carreras de Caballos Cuarto de Milla, visite aqha.com/racing.
AQHA Noticias e Información es un servicio de la Asociación de Caballos Cuarto Americano. Para obtener más noticias e información, siga @AQHAnews en Twitter y visite aqha.com/news.