RACING ESTA SEMANA
Additional Challenges

Current Nominees and Sustaining Payments
CARACTERISTICAS
SERVICIOS
Ganadores de carreras de Grado, Ms Esther y Madewell se enfrentarán nuevamente en el $23,500 AQHA Remington Park Distance Challenge Stakes (G2) a 870 yardas el Domingo.

© Dustin Orona Photography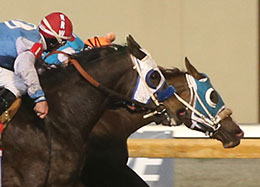 Ms Esther, Madewell Encabezan AQHA Remington Park Distance Challenge
POR MICHAEL CUSORTELLI
OKLAHOMA CITY, OK — 23 DE ABRIL DE 2020— Un par de ganadores de carreras de Grado, Ms Esther y Madewell, renovarán su rivalidad en el $23,500 AQHA Remington Park Distance Challenge Stakes (G2) a 870 yardas.
Una hija de 6 años de edad del semental Afrashad (TB), hijo de Smoke Glacken (TB), propiedad y entrenada por Jordan Baumann, Ms Esther viene de un segundo lugar, por un cuerpo detrás del clasificado más rápido Higher Flyin Eagle, en la primera de dos pruebas el 11 de Abril. La yegua ganó $163,547 en 16 salidas, y sus ocho victorias incluyen victorias en el Pauls Valley Stakes (G2) y AQHA Remington Park Distance Challenge (G3) el año pasado.
Ms Esther saldrá de la posición numero 6 y será montada por Benito Baca.
Madewell es un hijo criado en casa de 6 años de edad del semental hijo de Mr Jess Perry, Jess Jones. Entrenado por Bernard Baca para los propietarios Ray L. Madewell y Davy Madewell, el castrado alazán ha ganado cuatro de 23 salidas, incluyendo el Grado 2, Remington Distance Championship a 870 yardas el año pasado, y ha acumulado $136,245.
Madewell saldrá de la posición numero 3 y será montado por Stormy Smith.
El ganador de esta carrera ganará un lugar en el $100,000 AQHA Distance Challenge Championship (G1) a 870 yardas este año en Albuquerque Downs. La alineación completa, en orden de la posiciones de puertas, incluyendo asignaciones de jinete:
Jess A Hilbily Bone (Travis Cunningham)
Dance The Dust Off (Berkley Packer)
Madewell (Stormy Smith)
High On Chablis (Donell Blake)
The Louisiana Dream (Brett Birzer)
Ms Esther (Benito Baca)
Higher Flyin Eagle (Josh Romero)
Jess A Final Diva (Daniel Torres)
Todas las carreras de Remington Park se pueden ver en Q-RacingVideo.com.