RACING ESTA SEMANA
Additional Challenges

Current Nominees and Sustaining Payments
CARACTERISTICAS
SERVICIOS
Weber Downs organizó dos pruebas el Domingo para el $30,000-agregados Adequan Weber Derby Challenge.

© Kira Crook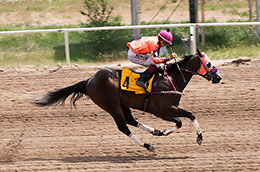 Dr Tool Más Rápido en Pruebas para Adequan Weber Derby Challenge
OGDEN, UT —10 de Mayo de 2020— En la primera de tres conjuntos de pruebas el Domingo por la tarde en Weber Downs, Dr Tool emergió como el clasificado más rápido para el Adequan Weber Derby Challenge de $30,000. La final a 400 yardas se llevará a cabo el 24 de Mayo.
Dr Tool despejó el resto del campo por dos cuerpos en la primera de las dos pruebas y estableció el tiempo más rápido de 19.948, obteniendo un índice de 106 velocidades. Dr Tool fue montado por Jesús Valenzuela para el propietario y entrenador Luis González.
El hijo 3 añero de Kiss My Hocks fue criado en Texas por Andy Caulo, de la yegua hija de One Famous Eagle, Where Eagles Soar, cuya madre es la ganadora de múltiples carreras de grado Sixy Thru Traffic. La victoria de prueba fue la primera en ocho salidas en su carrera; el otoño pasado, fue tercero en La Fiesta Futurity en The Downs en Albuquerque.
La ganadora de la segunda prueba, Calida, registró el segundo mejor tiempo de 20.145 y obtuvo un índice de velocidad de 101. Calida es una hija 3 añera hija de FDD Dynasty, y de la yegua The Fire Fly, hija de Sixes Royal.
Eric Ayala condujo a Calida a la victoria para el entrenador Monty Arrossa. Ella es propiedad de Lex Fabrizio y fue criada en California por Lazy Creek Ranch. Ella es ahora dos por seis de por vida; su anterior victoria fue en el Roche Equine Futurity en Jerome en Junio pasado.
Calida terminó por cuello frente a Shes Emotionless, la tercera clasificada más rápida en general con un tiempo de 20.177 y un índice de velocidad de 99.
Shes Emotionless fue montada por Oscar Cervantes para el entrenador Luis González y el propietario Abelardo González. Fue criada en Nuevo México por RD Hubbard, de Natalie Dash, por First Down Dash.
Este fue la primera salida fuera de Los Alamitos para la hija de Hes Relentless; Ella tiene dos victorias en sus nueve salidas anteriores en Los Al.
Las repeticiones de video de cada prueba están disponibles en el canal de YouTube de Utah Quarter Horse Association Racing.
Para obtener la lista completa de los clasificados del Adequan Weber Derby Challenge con sus tiempos individuales, padres, madres, propietarios, criadores, entrenadores y jinetes,
HAGA CLIC AQUÍ
.