RACING ESTA SEMANA
Additional Challenges

Current Nominees and Sustaining Payments
CARACTERISTICAS
SERVICIOS
El finalista Grado 3, Mister Tornado, encabezará el Adequan California Derby Challenge de $37,961 el Domingo por la noche en Los Alamitos.

© Scott Martinez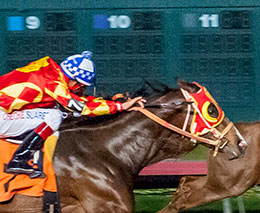 Adequan California Derby Challenge Encabeza La Tarjeta del Domingo en Los Alamitos
LOS ALAMITOS, CA — 21 DE MAYO DE 2020—
Un fuerte campo de nueve tres añeros se enfrentará en el Adequan California Derby Challenge de $37,961 el Domingo por la noche en Los Alamitos.
El ganador del Adequan California Derby avanzará al Grado III, Adequan Derby Challenge Championship está programado para celebrarse en The Downs en Albuquerque a finales de este año.
El campo del Domingo incluirá a Mister Tornado, un velocista veloz que armó una racha de cuatro victorias consecutivas contra reclamantes de nivel medio a alto en Los Alamitos. Terminó tercero en una prueba enEl Primero del Año Derby antes de subir al quinto lugar después de la descalificación en la final en la que fue golpeado duro al comienzo.
Jonathan Roman montará a Mister Tornado para el entrenador Félix González.
Otros principales corredores en el Adequan California incluirán al ganador del John Deere California Juvenile, Giving Free, el ganador del The Plan Handicap, Zoom On Jess y James Smith, finalista del Handicap Pay Me In Front.
* * * * * * * * * * * * * *
Cortesía de www.losalamitos.com .