RACING ESTA SEMANA
Additional Challenges

Current Nominees and Sustaining Payments
CARACTERISTICAS
SERVICIOS
El ganador del ARC Sun Downs Distaff Challenge el año pasado, Favorite Bling, espera repetir en el $27,676 ARC Weber Downs Distaff Challenge a 400 yardas.

© Ginny Harding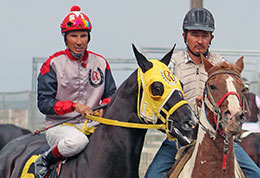 Campo Fuerte 2020 Debuta en ARC Weber Downs Distaff Challenge el Domingo
OGDEN, UT — 23 DE MAYO DE 2020—
Nueve potras están listss para hacer su debut en 2020 en el $27,676 ARC Weber Downs Distaff Challenge a 400 yardas.
La carrera es parte de una gran tarjeta de carreras clásicas dominicales para la pista de Utah con el primer horario de publicación establecido para el mediodía (MDT).
El ARC Weber Downs Distaff Challenge ha sido catalogado como Carrera 6 con una publicación aproximada de 2:05 pm (MDT). El ganador también ganará un lugar de salida en el $100,000-est. Grado 1 ARC Distaff Challenge Championship se disputará el 24 de Octubre en The Downs en Albuquerque como parte de la Noche del Bank of America Challenge Championship.
El entrenador José Gómez enviará a la yegua favorita de Juan García, Favorite Bling, desde la posición interior. Jesus Canales ha sido nombrado para montar a la hija de 5 años de edad del padre líder Favorite Cartel. Ganadora del ARC Sun Downs Distaff del año pasado, Favourite Bling fue quinta en su última salida, el Grado 1 $106,000 ARC Distaff Challenge Championship en Albuquerque.
La yegua negra es una ganadora de múltiples carreras clásicas en cinco carreras y ha ganado $70,049. Ganó el ARC Sun Downs Distaff Challenge 2019 Kenewick, Washington.
Loco Ocho, colocado en clásicos de Les y Darla Barlow, buscará regresar a la columna de victorias el Domingo. El criado en casa de Idaho, de 4 años de edad, terminó en tercer lugar en el 2019 Pocatello Downs Distaff Challenge en su última salida el 15 de Septiembre. Antes de eso, logró una racha de cuatro carreras.
Garth Blattner entrena a la hija del padre campeón The Louisiana Cartel de la yegua hija de First Wrangler, Sign Of Pride. Ella ha ganado cinco de 11 salidas y ganó $15,358. Jesús Valenzuela correrá desde la posición numero 4.
Shesa Dashair, de Ricardo Mariles, una gran ganadora de allowance, buscará su primera victoria en clásicos. La yegua Dashair, de 4 años de edad, entra a la carrera de una victoria allowance por un cuerpo y cuarto y gana su última salida en la Feria del Condado de Harney el otoño pasado. Ganó cuatro de las ocho carreras en 2019 y ha ganado $19,095. José López montará desde la posición numero 6.
La finalista del Elko Intermountain Futurity, Vino Bello, se enfrentará a yeguas mayores por primera vez en su carrera. La hija de tres años de edad del padre líder, Favorite Cartel, perdió ganar el Elko Futurity en su última salida el 2 de Septiembre de 2019. Compitiendo por la dueña Ranee Browning, ganó tres de siete salidas a 2, fue finalista en el Hadley-Giles Futuridad y ganó un consuelo en Sandy Downs.
La entrenadora Tisa Helmick nombró a Jesús Virgen para montar a la criada en California de $15,073.
La alineación completa, en orden de posiciones de puertas, incluyendo asignaciones de jinete:
Favorite Bling (Jesus Canales)
Candelaria (Cordarelton Benn)
Look Secret (Armando Viramontes)
Loco Ocho (Jesus Valenzuela)
She Zooms (Jose Figueroa)
Shesa Dashair (Jose Lopez)
Vino Bello (Jesus Virgin)
Royallittlewagon (Dallas Erickson)
Secret Nobel (Eric Ayala)