RACING ESTA SEMANA
Additional Challenges

Current Nominees and Sustaining Payments
CARACTERISTICAS
SERVICIOS
Dr. Tool, bajo el mando de Jesús Valenzuela, ganó el Adequan Derby Challenge el Domingo.

© Kira Crook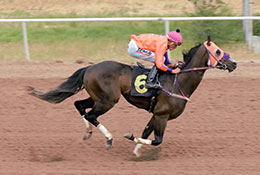 El Calificador Más Rápido Dr Tool Regresa Para Ganar El Adequan Weber Downs Derby Challenge
OGDEN, UT — 24 DE MAYO DE 2020— El calificador más rápido de dos pruebas el 10 de Mayo, Dr. Tool regresó el Domingo por la tarde para ganar el Adequan Weber Downs Derby Challenge de $50,771.
Debido a complicaciones relacionadas con la pandemia de COVID-19, Weber Downs acordó organizar las eliminatorias regionales ARC Distaff Challenge y Adequan Derby Challenge que originalmente se habían programado en Sun Downs.
Jesús Valenzuela ganó su tercer clásico del día a bordo de Dr. Tool; la pareja arranco fuerte y despejó el campo por un cuerpo y medio en el cable. Dr. Tool obtuvo un 105 en índice de velocidades y terminó la carrera de 400 yardas en 19.953, solo un poco más lento que su tiempo de calificación de 19.948.
Las conexiones ganadoras de Dr Tool aceptan el trofeo Adequan Derby Challenge el Domingo.
© Kira Crook
Dr Tool es propiedad y está entrenado por Luis Gonzalez. El hijo de 3 años de Kiss My Hocks fue criado en Texas por Andy Caulo, desde la yegua por One Famous Eagle, Where Eagles Soar, cuya madre es la ganadora de múltiples clásicos, Sixy Thru Traffic.
La victoria del Domingo fue la primera victoria de Dr. Tool y su segunda victoria en su carrera en nueve salidas. Cuando tenía 2 años, fue tercero en La Fiesta Futurity en The Downs en Albuquerque y ahora tiene ganancias de $59,950.
El segundo calificado más rápido Calida y el jockey Eric Ayala fueron poderosos desde la puerta y persiguieron a Dr Tool antes de terminar segundo, casi un cuerpo por delante de Liquid Courage B en tercer lugar.
Calida ganó su eliminatoria y tiene dos victorias en su carrera en siete salidas; Su victoria anterior fue una victoria en la Roche Equine Futurity en Jerome en Junio pasado.
Liquid Courage B ocupó el tercer lugar con Armando Viramontes a bordo del entrenador Ricardo Castillo y el propietario Adrian Aleman. La potranca de 3 años tiene múltiples clásicos y tiene dos victorias en nueve inicios de por vida.
Liquid Courage B fue criado en Texas por Paragon Farms, LLC, por FDD Dynasty desde la yegua First Class Lacy B, por Mr Jess Perry .
Las repeticiones de video de cada carrera están disponibles en el canal de YouTube de Utah Quarter Horse Association Racing.
Completando el campo estaban Meghans Feature Sign, Shes Emotionless, Kiss Fast Zoom, Thrill of the Cartel, Trumpster, Dh Renees Dynasty y Orange Vodka Shooter.