RACING ESTA SEMANA
Additional Challenges

Current Nominees and Sustaining Payments
CARACTERISTICAS
SERVICIOS
Retama Park recogerá las carreras regionales John Deere Juvenile Challenge y Adequan® Derby Challenge, originalmente programadas para la primavera pasada en Sam Houston Race Park.

© Coady Photography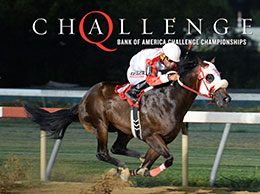 Las Carreras De Sam Houston Challenge Se Trasladaron A Retama Park
Q RACING — 2 de Junio de 2020—
Dos carreras del Bank of America Racing Challenge originalmente programadas para correr en Sam Houston Race Park se han trasladado a Retama Park.
Las carreras regionales John Deere Juvenile Challenge y Adequan® Derby Challenge originalmente programadas para Sam Houston se moverán, y el dinero adicional para ambas carreras aumentará de $30,000 a $35,000 por cada carrera.
Dado el corto período de tiempo antes de que se programen las carreras, tanto la nominación como los pagos de mantenimiento vencen simultáneamente el 15 de Junio.
"Nos damos cuenta de que esto es una imposición para el nominador, pero dada la incertidumbre de las carreras debido a COVID-19, no solo estamos contentos de poder conducir las carreras, sino más importante, apreciamos la gestión en Retama Park por su disposición para recibirlos,'' dijo la directora de carreras de AQHA, Janet VanBebber. "Los caballos que fueron nominados para las carreras originales programadas en Sam Houston tendrán sus pagos aplicados a estas carreras.''
Las pruebas para las carreras se llevarán a cabo el fin de semana inaugural en Retama Park, que está programado para el 3 de Julio, y las finales se disputarán tres semanas después el 25 de Julio.
Las carreras se llevarán a cabo junto con la venta anual de TQHA y una tarjeta de carreras que también incluye el TQHA Sale Futurity, que promete un día maravilloso para los asistentes.
Para obtener más información o realizar pagos, llame a la línea directa Racing Challenge al 877-222-7223.
* * * * * * *
Para obtener las últimas noticias sobre las carreras de American Quarter Horse, visite aqha.com/racing .
AQHA News and information es un servicio de la American Quarter Horse Association. Para obtener más noticias e información, siga @AQHAnews en Twitter y visite aqha.com/news .