RACING ESTA SEMANA
Additional Challenges

Current Nominees and Sustaining Payments
CARACTERISTICAS
SERVICIOS
Shockinglyfamous, bajo el mando de Jimmy Brooks, ganando el Regional Challenge Stakes de $15,000 el Domingo en Ruidoso Downs.

© Jake Rogers / Ruidoso Downs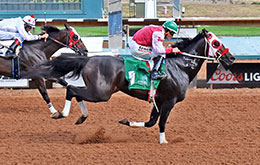 Shockinglyfamous Gana Challenge Regional, Pirates Coves Hero Obtiene Litera Hacia BOA
RUIDOSO DOWNS, NM — 11 de Julio de 2020 ---
El ganador de clásicos de grado, Shockinglyfamous obtuvo una victoria de un cuerpo sobre Señor Frogs en el Regional Challenge Stakes de $15,000 esta tarde en Ruidoso Downs.
La pista de carreras de Nuevo México acordó escribir un clasico de $15,000 para el Challenge Regional hoy, dando preferencia a 10 calificadores del Rillito Championship Challenge que no pudieron correr la final debido a la pandemia COVID-19.
El mejor finalista de Rillito en la carrera recibe el puesto para el Grado 1, Bank of America Challenge Championship de $300,000 se disputará el 24 de Octubre en The Downs at Albuquerque. Los otros participantes de Rillito tendrán preferencia para las carreras Challenge durante la Noche del Campeonato Challenge 2020 de Bank of America.
Shockinglyfamous, montado por el jockey Jimmy Brooks y no era un calificador en Rillito, completó las 440 yardas en: 21.702 segundos, lo que equivale a un 88 en índice de velocidades con un viento cruzado de 8 mph. Fue la quinta victoria en 18 salidas y el bolso del ganador regional de $9,000 aumentó su marca de por vida a casi $155,000.
Eddie D. Willis ensilló al hijo del padre principal One Famous Eagle para los propietarios Stone Chase Stables LLC y Alexia Willis. Clarence Scharbauer III crió al ganador del 2020 SLM Big Daddy Stakes (G3) en Texas desde la yegua por Langfur (TB), Shocktime (TB).
El subcampeón Senor Frogs ganó $3,000 por su segundo puesto. El hijo de 3 años del principal padre Coronado Cartel compite para el dueño José Aguilar Mendoza y está condicionado por Eloy Navarro. Raúl Valenzuela tenía el encargo de montar a caballo en la bahía de Nellie Soprano por Mr. Eye Opener. Criado en Oregon por Michael y Shannon McKay, Señor Frogs es un ganador de $58,058.
Pirate Coves Hero terminó 1 cuerpo y ¼ detrás en tercer lugar, pero aún así ganó el puesto en el Bank of America Championship Challenge a través del segundo calificador más rápido en Rillito en Febrero pasado. El entrenador Jesús Olivas ensilló al hijo del padre Valiant Hero para el dueño Julio Francisco Villar Torres. Criado en Oklahoma por Reliance Ranches LLC, desde American Feature por Featuring Mr Jess, Pirate Coves Hero ha depositado $104,181.
Flying Eagle 07, Valiant Tort, Thisizit, Our Special Legacy, Captain Mazurk, Miss First N Wild y Pirteville Cartel completaron el campo.