RACING ESTA SEMANA
Additional Challenges

Current Nominees and Sustaining Payments
CARACTERISTICAS
SERVICIOS
Signs Of A Blue Moon (# 5) en batalla con Cant Deny Here (# 8) por el mejor tiempo en el John Deere Prairie Meadows Juvenile el Sábado.

© Coady Photography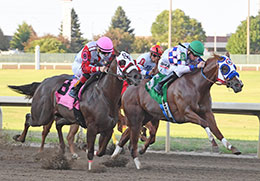 Signs Of A Blue Moon Supera A Calificadores En John Deere Prairie Meadows Juvenile
ALTOONA, IA — 25 DE JULIO DE 2020
— Signs Of A Blue Moon de Thomas D. Lepic, derroto a Cant Deny Her por una cabeza en la última de las tres pruebas el Sábado por la noche para el John Deere Prairie Meadows Juvenile Challenge para obtener el mejor tiempo de calificación.
Los 10 calificadores más rápidos, de las tres carreras de prueba, regresarán a Prairie Meadows el Viernes 15 de Agosto para competir por la parte de los ganadores de un bolso agregado de $30,000. También está en juego un punto de partida en el Grado 2, John Deere Juvenile Challenge Championship de $125,000 el 24 de Octubre en la noche de Bank of America Challenge Championship en The Downs en Albuquerque.
El entrenador Jason Olmstead ensilló a Signs Of A Blue Moon para su segunda victoria consecutiva. Montada por el jockey Berkley Packer, la hija del padre campeón Tres Seis completó las 350 yardas en: 17.833 segundos, lo que equivale a un índice de velocidades de 89 con un viento de 5 mph.
Lepic crió a la potranca en Oklahoma desde la yegua por Pyc Paint Your Wagon, Signs Of Pyc. Ella compiló un record de (4) 2-1-0 y acumuló $15,463.
Cant Deny Her, hija del padre Capo de Capi , aguantó el segundo tiempo más rápido de: 17.849 segundos. Brett Bizer recibió la llamada de la entrenadora Shawna Manriquez. Karen Dixon es la propietaria de Nolet, criada en Oklahoma por Stoli . Criada por NR Stevenson, ha colocado en cuatro de cinco salidas.
Para obtener la lista completa de calificadores, tiempos, pedigrí, propietarios, criadores, entrenadores y jockey del John Deere Prairie Meadows Juvenile Challenge HAGA CLIC AQUÍ .
* * * * * * * * * * * * * * * * * * * *
Sobre Prairie Meadows
Prairie Meadows comenzó a operar como una organización sin fines de lucro en 1989 con el objetivo de promover el desarrollo económico, el empleo, la agricultura y el turismo en el estado de Iowa. A través de impuestos, subvenciones y donaciones de caridad, Prairie Meadows ha donado más de $1.8 mil millones al estado de Iowa. Prairie Meadows ofrece más de 1,700 máquinas tragamonedas, juegos de mesa, carreras en vivo y en simultáneo, alojamiento en hoteles, entretenimiento y más.