RACING ESTA SEMANA
Additional Challenges

Current Nominees and Sustaining Payments
CARACTERISTICAS
SERVICIOS
His Time To Deal, bajo el mando de José Vega, ganó fácilmente el John Deere Retama Park Juvenile Challenge de $61,149 el Sábado por la noche.

© Coady Photography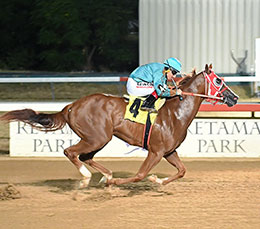 Calificador Superior, His Time To Deal Regresa A Ganar John Deere Retama Park Juvenile Challenge
SELMA, TX — 25 DE JULIO DE 2020— El calificador más rápido His Time to Deal ganó el John Deere Retama Park Juvenile Challenge de $61,149 de manera impresionante el Sábado por la noche. La carrera fue la segunda de las tres clásicos en la tarjeta y el segundo calificador Challenge regional.
José Vega montó a His Time To Deal ($4.20) a una victoria de casi 2 largos para el entrenador Leon Bard.
La pareja cruzó el cable en 17.996 y obtuvo un 86 en índice de velocidades en el clásico de 350 yardas. His Time To Deal superó su propio tiempo establecido en las pruebas como el calificador más rápido, 18.130.
Las conexiones ganadoras de His Time To Deal aceptan el trofeo del John Deere Retama Park Juvenile Challenge el Sábado en Retama Park.
© Fotografía Coady
Ganó la primera prueba de tres pruebas el 3 de Julio; la prueba rápida produjo los tres primeros calificadores más rápidos en general. His Time to Deal ahora está invicto en dos salidas de carrera con ganancias de $32,929.
Su tiempo para negociar es propiedad y criado por Pete Scarmardo en Texas, por Dealagame y fuera de Lady Lilia, por First Down Dash . Lady Lilia está fuera de la yegua ganadora de múltiples clásicos, Lady Tenaya, quien ganó el AQHA Distaff Challenge Championship (G1) en Lone Star en 2002.
Cartel Creek y Juan Pulido terminaron segundos para el entrenador John Stinebaugh y el propietario William Dale.
Terminó segundo en su prueba y fue el sexto calificador más rápido. Aunque fue un Maiden después de cuatro salidas de por vida, terminó segundo en sus últimas tres carreras consecutivas en Retama y Ruidoso.
Cartel Creek fue criado en Missouri por Jim Streelman y Bill Dale, engendrados por The Louisiana Cartel y fuera de la yegua ganadora de clásicos, Rawhide Creek, por Ivory James .
Hot Lady Returns y Francisco Calderón ganaron la foto ajustada por el tercer lugar. Hot Lady Returns fue la ganadora de la tercera prueba y la cuarta clasificadora más rápida.
La potranca High Rate of Return es entrenada por John Stinebaugh y propiedad de Vanessa Bartoo. Fue criada en Oklahoma por Cnn Breeding, por High Rate of Return y fuera de Hottesticketintown, por Jody O Toole.
Hot Lady Returns debutó en Ruidoso antes de romper su maiden en su eliminatoria hacia el John Deere Retama Park Juvenile Challenge.
Completando el campo estaban Elegant Tres, A Sweet Capo, Super Fly B, Viva Le Merica, Kiss My Happy Hips, Averys Volcom y High On Royce.