RACING ESTA SEMANA
Additional Challenges

Current Nominees and Sustaining Payments
CARACTERISTICAS
SERVICIOS
Ruidoso Downs será el anfitrión de cuatro pruebas para el John Deere Ruidoso Juvenile Challenge a 350 yardas en la tarjeta de carreras el Viernes.

© Jake Rogers / Ruidoso Downs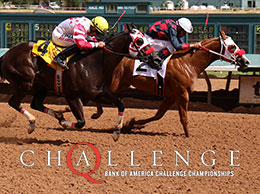 Cuarenta, 2 Añeros Entraron a Pruebas para John Deere Ruidoso Juvenile Challenge
POR MICHAEL CUSORTELLI
RUIDOSO DOWNS, NM — 28 de Julio de 2020— Cuarenta, 2 añeros, encabezados por Peves Blue Duck, entraron a las pruebas del John Deere Ruidoso Juvenile Challenge a 350 yardas el Viernes en el hipódromo Ruidoso Downs.
Un hijo castrado del semental hijo de One Famous Eagle, Moonin The Eagle, Peves Blue Duck es entrenado por Eddie D. Willis para la dueña Regina Laymon. Peves Blue Duck ganó $18,879 de cuatro carreras durante la temporada de primavera de Remington Park, y corrió cuarto, por tres cuartos de cuerpo detrás del ganador Best Of You, en el Laico Bird Stakes (R) a 330 yardas, de $49,000 para criados en Oklahoma 2 añeros el 18 de Abril.
Peves Blue Duck saldrá de la posición numero 8 y será montado por Jimmy Dean Brooks en la primera de las cuatro pruebas.
Los 10 clasificados más rápidos se enfrentarán en la final el 15 de Agosto del John Deere Ruidoso Juvenile Challenge de $25,000 agregados. El ganador de la final ganará un lugar John Deere Juvenile Challenge Championship (G2) del 24 de Octubre en Albuquerque Downs.
Todas las carreras de Ruidoso Downs se pueden ver en Q-RacingVideo.com.