RACING ESTA SEMANA
Additional Challenges

Current Nominees and Sustaining Payments
CARACTERISTICAS
SERVICIOS
El ganador del Retama Park John Deere Juvenile Challenge, The Legend Stone encabezará dos pruebas para el Adequan Ruidoso Derby Challenge a 400 yardas en Ruidoso Downs el Sábado.

© Coady Photography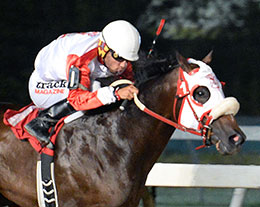 The Legend Stone Encabeza Pruebas para Adequan Ruidoso Derby Challenge
POR MICHAEL CUSORTELLI
RUIDOSO DOWNS, NM — 28 de Julio de 2020— The Legend Stone, un hijo ganador de clásicos de Pyc Paint Your Wagon, propiedad de Rancho La Cobra, hará su debut de temporada como tres añero en las pruebas a 400 yardas para el Adequan Ruidoso Derby Challenge en Ruidoso Downs.
The Legend Stone hará su primera salida desde el 19 de Octubre, cuando el potro entero corrió tercero, por un cuerpo detrás del ganador Dynast C, en una prueba a 400 yardas para el Texas Classic Futurity (G1) en Lone Star Park. The Legend Stone ha ganado $48,725 en siete salidas, y sus tres victorias incluyen una victoria por tres cuartos de cuerpo en el John Deere Retama Park Juvenile Challenge de $71,000 del año pasado.
The Legend Stone saldrá de la posición numero 5 y será montado por James Flores para el entrenador Juan Martin Triana en la primera de las dos pruebas.
Un total de 20, 3 añeros entraron a las pruebas del Sábado. Los 10 clasificados más rápidas se enfrentarán en la final el 15 de Agosto, para el Adequan Ruidoso Derby Challenge de $60,000 agregados.
Todas las carreras de Ruidoso Downs se pueden ver en Q-RacingVideo.com.