RACING ESTA SEMANA
Additional Challenges

Current Nominees and Sustaining Payments
CARACTERISTICAS
SERVICIOS
Lovely Cuvee, bajo el mando de, JB Botello, ganó el ARC Distaff Challenge en Evergreen Park el Domingo por la tarde.

© Gordon Anderson / Alberta Daily Herald-Tribune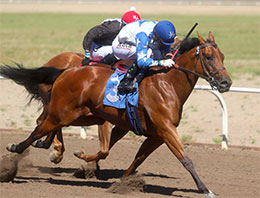 Lovely Cuvee Recoge La Victoria En ARC Distaff Challenge En Evergreen Park El Domingo
GRANDE PRARIE, ALB — 27 DE JULIO DE 2020—
Lovely Cuvee derrotó a First Prize Cruise por medio cuerpo el Domingo en el Desafío ARC Distaff en Evergreen Park en Grande Prairie.
Montado por JB Botello, la hija del padre principal Tres Seis completó las 400 yardas en un tiempo de: 20.622, con un viento cruzado de 20 mph. El entrenador Allen Goodsell ensilló la potranca para su segunda victoria en siete salidas para el propietario Beckham Ranch. Los $17,056 para el primer lugar elevan el total de ganancias de Lovely Cuvee a $29,967.
"Estaba un poco lentos al salir de la puerta, pero afortunadamente, teníamos un carril para correr,'' dijo Goodsell después de la carrera. ''Cuando ganas, los disfrutas porque los altos es lo máximo, pero los bajos regresan rápido. Siempre es mejor tener un caballo de carreras con suerte que talento.
Con la victoria, Lovely Cuvee califica automáticamente, como ganador regional del ARC Distaff Challenge Championship de $100,000 programado para el 24 de Octubre durante el Bank of America Challenge Championship en The Downs en Albuquerque, NM
Compitiendo para el propietario-criador y entrenador Tom Kenway, First Prize Cruise, una hija de First Prize Doc, terminó en segundo lugar. Montada por el jockey Manuel Ortiz, la niña de 5 años ganó $7,334 por su esfuerzo.
Getit Hot, propiedad de Charles Stojan y entrenado por William Leech, terminó tercero. R Moreno montó la potranca de 4 años por Walk Thru Fire desde Getit Together por Separatist criada en California por Martha Wells, ganó $3,752.
Atomic Blondie Knotty KNita y Papas Coleen completaron el campo.