RACING ESTA SEMANA
Additional Challenges

Current Nominees and Sustaining Payments
CARACTERISTICAS
SERVICIOS
Cm Once Ina Bluemoon, bajo el mando de José Figueroa, establece un nuevo récord de pista en 870 yardas en Emerald Downs al ganar el AQHA Emerald Downs Distance Challenge Stakes de $26,554 el Jueves.

© Reed Palmer / Emerald Downs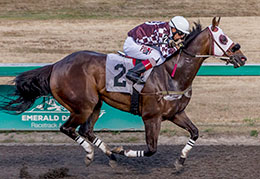 Cm Once Ina Bluemoon Consigue Un Billete de Albuquerque En Un Rendimiento Récord
AUBURN, WA — 20 DE AGOSTO DE 2020—
Cm Once Ina Bluemoon superó a sus rivales el Jueves por la tarde en Emerald Downs con un impresionante récord de desempeño, defendiendo su título de 2019 en el AQHA Emerald Downs Distance Challenge Stakes de $26,554.
El hijo de 5 años de un padre de múltiples corredores de clásicos a href='show_stallion.asp?horse=680'>Ivory James , no solo obtuvo su tercera victoria consecutiva esta temporada, sino que también se ganó un puesto inicial en Grado 1, Cox Ranch Distance Challenge de $100,000 cual se disputará en la Noche del Campeonato de Bank of America en The Downs en Albuquerque el 24 de Octubre.
Las conexiones ganadoras de Cm Once Ina Bluemoon aceptan el trofeo del Emerald Downs Distance Challenge.
© Reed Palmer / Emerald Downs
Cm Once Ina Bluemoon fue superada al inicio, pero se recuperó muy bien con José Figueroa para ganar por 3 cuerpos y ¾, mientras completaba las 870 yardas en: 45.423, estableciendo un nuevo récord en la pista de Emerald Downs y obteniendo un índice de velocidad de 103. El récord anterior de: 45.785 segundos fue establecido por Bleu Tarp el 14 de Septiembre de 2012.
El entrenador Nick Lowe ensilló al castrado a su 12ª victoria en 32 salidas para el propietario Chris Sutton. La bolsa de los ganadores de $13,809 aumentó su presupuesto a $ 92,380. Randy Dickerson crió a Cm Once Ina Bluemoon en Oregon a partir de la yegua por Jess Louisiana Blue, Cool Blue Corona.
Sin rivales para el ganador, el subcampeón Flyin Rocks ganó $6,107 por terminar segundo. José Gómez entrena al hijo de 6 años de odl de Fly Chisholm Fly desde la yegua por Rock Band (TB), Rock's El Dorado (TB). Gilberto Madrigal es dueño del criado en Oregon con Joree Scriver montando. Don Young crió al ganador de $35,921.
Heza Gamer, calificador en múltiples posiciones, terminó tres cuerpos atrás y se llevó $3,054 por el tercero. Scott Raley acondiciona el castrado Game Plan de 6 años para la dueña Connie Chumbley. Gary Chumbley crió a Heza Gamer en Oregon a partir de la yegua Sneak Bac por Splash Bac. Ha ganado $26,076.
Hes A Bugin y Jess B 613 completaron el campo.