RACING ESTA SEMANA
Additional Challenges

Current Nominees and Sustaining Payments
CARACTERISTICAS
SERVICIOS
Cm Boom Shakalaka (# 9) detiene a Jesstafiably Jess (# 5) para ganar el Bank of America Emerald Downs Championship Challenge de $52,734 en Emerald Downs el Jueves.

© Reed Palmer / Emerald Downs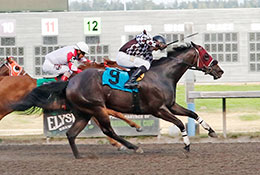 Entrenador Nick Lowe Arrasa En Emerald Downs Con La Victoria En El Campeonato Bank of America
AUBURN, WA — 20 DE AGOSTO DE 2020—
El entrenador Nick Lowe obtuvo su tercera victoria consecutiva clasificada, el Jueves cuando Cm Boom Shakalaka superó a Jesstafiably Jess por un cuello en el Bank of America Emerald Downs Championship Challenge de $52,734 en Emerald Downs.
El entrenador también ensilló a Louisana Bunny a la victoria en el John Deere Emerald Downs Juvenile Challenge y Cm Once Ina Bluemoon a una actuación sin precedentes en el Emerald Downs Distance Challenge el Jueves.
Bajo el mando del jockey Luis González, Cm Boom Shakalaka arranco hacia adentro y rozó al comienzo, pero se recuperó muy bien para completar las 440 yardas en: 22.272 segundos, lo que equivale a un índice de velocidad de 94. Fue la duodécima victoria en su carrera en 28 salidas para el hijo de 5 años del campeón Carters Cartel .
Las conexiones ganadoras de Cm Boom Shakalaka aceptan el trofeo del Bank of America Emerald Downs Championship Challenge.
© Reed Palmer / Emerald Downs
Corriendo para el propietario Chris Sutton, quien también es dueño de Cm Once Ina Bluemoon, Cm Boom Shakalaka ganó $24,785 para aumentar su presupuesto de carrera a $151,082. Fue la tercera victoria consecutiva este año para el bayo castrado desde Mi Fames A Dandy por Dash To Fame. Randy Dickerson es el criador.
También estuvo en juego un puesto de participación en el Grado 1, El Bank of America Challenge Championship de $250,000 cual se celebrará el Sábado 24 de Octubre en The Downs en Albuquerque. El ''BOA Championship'' son las carreras ancla de la noche anual del Bank of America Challenge Championship Night.
El ganador de clásicos, Jesstafiably Jess ganó $10,547 por terminar segundo. Bentio Curiel entrena al hijo criado en casa en Washington de One Sweet Jess para el propietario y criador Malon Cowgill. José Figueroa estaba a bordo del niño de 4 años desde la yegua por Strawfly Special, Fly Thru Time. Ha ganado $42,234 en 12 salidas en su carrera.
Un ganador de múltiples clásicos, One Flyin Foose terminó tres cuartos atrás para ganar $5,273 por el tercero. Freddy Ibarra nombró a Jaime López para montar a la hija de 3 años del campeón Foose . Matt Huse es el propietario-criador del ganador del Far West y Baxter Andruss Oregon-Bred Futurity del año pasado. La potranca ha acumulado $46,718.
Completando el campo del Bank of America estaban L Bar D Genuine Red, Alabama Hills, Loosin My Lover, Kool Odds, Ima Five Bar Cartel y Favorite Bling.