RACING ESTA SEMANA
Additional Challenges

Current Nominees and Sustaining Payments
CARACTERISTICAS
SERVICIOS
The Prize Ferrari marcó el mejor tiempo de clasificación para el John Deere Pocatello Juvenile Challenge el Sábado.

© Kira Crook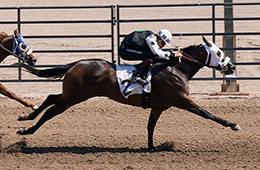 The Prize Ferrari Encabeza Pruebas para John Deere Pocatello Juvenile Challenge
POCATELLO, ID — 5 DE SEPTIEMBRE DE 2020— Después de dos pruebas el Sábado por la tarde, The Prize Ferrari fue el clasificado más rápido para el John Deere Pocatello Juvenile Challenge.
The Prize Ferrari ($4.60) y Jesús Canales ganaron la primera de dos pruebas en 17.635 y obtuvieron un índice de velocidad de 95. Entrenado por Mark Hanson lideró de puerta a cable para obtener su tercera salida de carrera. El hijo castrado de The Louisiana Cartel terminó segundo en el Bitterroot Futurity (RG3) en su salida anterior y fue segundo en el Crush the Curve Futurity en Junio.
The Prize Ferarri es propiedad de RTM Stables, Robin Dunn, Kevin Dunn y Byron Goody. Fue criado por Weetona Stanley en Oklahoma, de la yegua hija de Mr Jess Perry, Ferarri Fast Prize, lo que lo convierte en medio hermano del ganador de múltiples carreras de grado Ferrari James. The Prize Ferrari es tres por cinco de por vida con ganancias de $26,021, todas en Pocatello Downs.
Summon y el jinete Carlos Guillén Chacón persiguieron a The Prize Ferrari, pero terminó por un cuerpo detrás como el segundo clasificado más rápido en 17.798.
Summon es entrenado por Julio Corral para la dueña Josselin Reyes Corral. El castrado hijo de Valiant Hero fue criado en Oklahoma por Reliance Ranches, LLC, de la yegua Rosas Coronas hija de Corona Cartel.
La prueba fue la primera salida de Summon en Remington Park. Ganó su debut, una prueba para el Oklahoma Futurity, y fue quinto tanto en el Oklahoma Juvenile Stakes como en una carrera allowance en Mayo.
Sb Panama Red ($12.80) ganó la segunda prueba en 17.866 para ser el tercer clasificado más rápido. SB Panama Red fue montado por César Moreno para el entrenador Luis González y los dueños Steve Berry y Jason Berry. Steve Berry también crió al castrado en Utah, de Turbulent Times y de la yegua Southern Surfer Girl, hija de Southern Cartel.
Sb Panama Red rompió su maiden en la victoria de la prueba, aunque fue tercero en un consuelo para el Beehive Futurity en Laurel Brown y se clasificó para el Utah Bred Futurity en Wyoming Downs.
Para obtener la lista completa de clasificados al John Deere Pocatello Juvenile Challenge con sus tiempos individuales, padres, madres, propietarios, criadores, entrenadores y jinetes, HAGA CLIC AQUÍ.
Nota del editor: se publicará una foto de la carrera de clasificación más rápida cuando esté disponible por el fotógrafo de la pista.