RACING ESTA SEMANA
Additional Challenges

Current Nominees and Sustaining Payments
CARACTERISTICAS
SERVICIOS
Jess My Hocks, bajo la dirección del jockey Mario Delgado, marcó el tiempo más rápido de dos pruebas disputadas el Domingo en Will Rogers Downs para el Adequan Derby Challenge.

© Coady Photography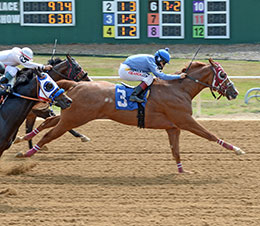 Jess My Hocks, Calificador Superior Hacia Adequan Will Rogers Derby Challenge
CLAREMORE, OK — 13 DE SEPTIEMBRE DE 2020—
Jess My Hocks, un hijo de
Kiss My Hocks
, logró una victoria por tres cuartos el Domingo en Will Rogers Downs mientras marcaba el tiempo más rápido para el Adequan ® Will Rogers Derby Challenge.
Los 10 calificadores más rápidos regresarán a Will Rogers Downs el Domingo 4 de Octubre para competir por la parte del ganador de la bolsa de $30,000. También está en juego ganar un lugar inicial en el estimado Adequan® Derby Challenge Championship (G3) de $150,000 durante la noche del Bank of America Challenge Championship en The Downs en Albuquerque el 24 de Octubre.
Bajo el mando de Mario Delgado, Jess My Hocks completó las 400 yardas en: 19.801 segundos, igualando un índice de velocidad de 98 con un viento de cola de 8 mph, para establecer la marca superior.
La entrenadora Michelle Hurdle condiciona a Jess My Hocks para los propietarios y criadores Tom y Kathleen McNally. Criado en Oklahoma, desde la yegua por Take Off Jess, Jess Charlena, Jess My Hocks ha ganado cinco de las 10 salidas de su carrera y ganó $96,390.
Jess My Hocks fue cuarto en el Grado 2, Heritage Place Derby en su inicio anterior y también se califico para el Remington Park Oklahoma-Bred Derby (RG2) en Abril. La temporada pasada terminó tercero en el Black Gold 440 Championship Futurity en Will Rogers Downs.
Coleen y Boots Friar y Mr Purgatory de Bling Livestock rebotaron en un viaje problemático en una prueba hacia el Rainbow Derby en su última salida para derrotar a Ima Secret Daisy por un cuello en la prueba inicial Adequan mientras establecían el segundo tiempo más rápido de: 19.830 segundos, un 97 en indice de velocidad con un viento de cola de 8 mph.
El entrenador Jason Olmstead condiciona al hijo criado en Texas del padre campeón Valiant Hero desde la yegua por Feature Mr Jess, Im Jess A Cowgirl. Renee Verette crió al cuatro veces ganador que ganó $26,758.
Para obtener una lista completa de los calificados del Adequan® Will Rogers Derby Challenge, sus tiempos, pedigrí, propietarios, criadores, entrenadores y jockey HAGA CLIC AQUÍ .
* * * * * * * *
Cherokee Casino Will Rogers Downs está ubicado a 3 millas al este de Claremore en la autopista 20. Para obtener más información, visite www.cherokeecasino.com y haga clic en la pestaña Will Rogers Downs, o llame al (918) 283-8800.