RACING ESTA SEMANA
Additional Challenges

Current Nominees and Sustaining Payments
CARACTERISTICAS
SERVICIOS
Jess My Hocks, bajo el mando del jockey Mario Delgado, ganó el Adequan Derby Challenge de $150,000 (G3) en Albuquerque el Sábado por la noche.

© Coady Photography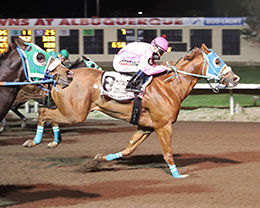 Jess My Hocks Termina Claro En Adequan Derby Challenge Championship (G3) De $150,000
ALBUQUERQUE, NM — 24 DE OCTUBRE DE 2020— Fue una exacta Kiss My Hocks en el Adequan Derby Challenge Championship (G3) de $150,000 en Albuquerque el Sábado por la noche. El padre estuvo representado por el ganador Jess My Hocks y el subcampeón Dr Tool en el campeonato.
El favorito de la postemporada Jess My Hocks ($3.20) ganó por un cuello en el clasico de 400 yardas con un tiempo de 19.406. Obtuvo un índice de velocidad de 96 con la victoria, la séptima de su carrera.
Jess My Hocks fue montado por Mario Delgado para el entrenador Jordan Baumann. El castrado es un criado en Oklahoma para Tom y Kathleen McNally, de Jess Charlena, por Take Off Jess.
Jess My Hocks ha ganado $184,995 en 12 salidas, incluida su victoria en el Adequan Will Rogers Derby Challenge. También corrió en el Heritage Place Derby (G2) y el Remington Park Oklahoma Bred Derby (G2). Cuando tenía 2 años, terminó tercero en el Black Gold 440 Championship Futurity.
Las conexiones ganadoras de Jess My Hocks aceptan los trofeos del Adequan Derby Challenge Championship (G3) el Sábado en The Downs en Albuquerque.
© Fotografía Coady
Dr. Tool marcó su boleto para los Challenge Championships al ganar el Adequan Weber Downs Derby Challenge inaugural esta primavera en Ogden, Utah. Dr. Tool fue montado por Jesús Valenzuela para el entrenador Sergio Ibarra y el propietario Luis Gonzales. Valenzuela también estuvo a bordo para la prueba del castrado y las victorias finales en Weber.
Dr Tool fue criado por Andy Caulo en Texas, desde la yegua por One Famous Eagle Where Eagles Soar. Corrió en Nuevo México cuando tenía 2 años y fue tercero en La Fiesta Futurity en Albuquerque. Ha ganado cuatro de las 12 salidas de su carrera y tiene cuatro de cinco en el dinero en Albuquerque. Su final en el Adequan Derby Challenge elevó sus ganancias totales a $117,496.
A Painted Dynasty y el jockey Alfredo Sigala persiguieron al dúo delantero para ganar el tercer lugar. El potro por FDD Dynasty califico al ganar el Adequan Retama Derby Challenge en Julio. Este año, también se califico para el Dash For Cash Derby (G2) en Lone Star, el Heritage Place Derby (G2) y el Remington Park Oklahoma Bred Derby (RG2) este año, elevando las ganancias de su carrera a $249,982.
A Painted Dynasty fue criado por The Mixer Ranch en Oklahoma, a partir de la yegua por Pyc Paint Your Wagon, Third Painted Sign. Es propiedad de David Gutierrez y es entrenado por Santos Carrizales, Jr.
Completando el campo estaban Mott the Hopple, Juice is Loose, Astranomical, Light Footed, Apollitical Barbie, Luchador y Mister Tornado. Divas First Moon, también elegible, fue borrado.