RACING ESTA SEMANA
Additional Challenges

Current Nominees and Sustaining Payments
CARACTERISTICAS
SERVICIOS
Bad Monkey, bajo la dirección del jockey Benito Baca, supera a Jc Wild King en el John Deere Juvenile Challenge Championship de Grado 2 de $125,800 el Sábado en The Downs en Albuquerque.

© Coady Photography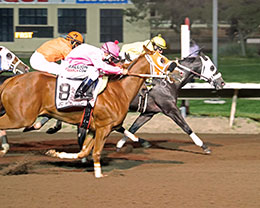 Bad Monkey Se Levanta Para Ganar El John Deere Juvenile Challenge Championship (G2)
ALBUQUERQUE, NM — 24 DE OCTUBRE DE 2020—
Bad Monkey, bajo el mando del jockey Benito Baca, se levantó en el alambre para derrotar a Jc Wild King por un cuello en John Deere Juvenile Challenge Championship G2 de $125,800 el Sábado en The Downs en Albuquerque.
Rebotando en un esfuerzo por el noveno lugar en el Dash For Cash Futurity (G2) el 27 de Septiembre, Bad Monkey completó las 350 yardas en: 17.487 segundos para obtener la cuarta victoria de su carrera para el propietario, criador y entrenador Dean Frey.
El hijo del padre de múltiples clásicos, Capo de Capi ganó $57,868 para llevar la marca de su carrera a $134,269. El potro muy viajado ganó el John Deere Ruidoso Downs Juvenile Challenge (G3) y fue segundo en el MQHRA Stallion Auction Futurity en Canterbury Park este año. Fue criado en California desde la yegua por Mr Eye Opener, Girls Eye Too.
El subcampeón Jc Wild King ganó $25,160 para el propietario y criador José Cervantes. Casey Black entrena al hijo del padre líder Apollitical Jess desde la yegua por Stoli Oh Cherokee Rose. Criado en Oklahoma, Jc Wild King ganó el Will Rogers Downs John Deere Juvenile Challenge en su última salida el 4 de Octubre. Montado por Mario Delgado, ha ganado casi $50,000 en cinco salidas esta temporada.
El presidente de AQHA, Butch Wise (derecha) presenta las conexiones ganadoras de Bad Money, los trofeos en juego del John Deere Juvenile Championship (G2) el Sábado en
The Downs en Albuquerque.
© Fotografía Coady
Otro cuello atrás en el tercero fue Isa Super Freak criado en casa de Debra Gotovac. Bradley Bolen entrena al hijo del padre
Ivan James
desde la yegua por
Jet Black Patriot,
Isa Precious Patriot. Montado por Alejandro Medellín, el castrado ganó $12,580 para llevar su presupuesto total a $8,811.
Tres A Jess, Summon, Charlies Fast Man, Louisana Bunny, Cartel Creek, Purty Darn Quick y Flight Club completaron el campo.