RACING ESTA SEMANA
Additional Challenges

Current Nominees and Sustaining Payments
CARACTERISTICAS
SERVICIOS
Lynnder 16, bajo el mando de Berkley Packer, ganó el Grado 1, ARC Distaff Challenge Championship de $100,000 el Sábado por la noche en Downs en Albuquerque.

© Coady Photography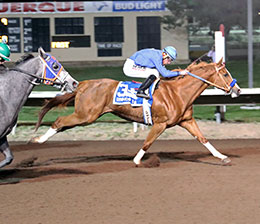 Lynnder 16 Impresionante En ARC Distaff Challenge Championship (G1) De $100,000
ALBUQUERQUE, NM — 24 DE OCTUBRE DE 2020— La ganadora de múltiples niveles, Lynnder 16, no decepcionó en el ARC Distaff Challenge Championship de $100,000 ; la potranca de 4 años venció a Jr Prissys Blood por medio cuerpo, con Loco Ocho en tercer lugar.
Lynnder 16 ($5.60) fue el favorito para el evento después de ganar el ARC Canterbury Park Distaff Challenge en Julio y el ARC Ruidoso Downs Distaff Challenge en Agosto. El Sábado por la noche, obtuvo un índice de velocidad de 90 después de cruzar el cable de la carrera de 400 yardas en 19.666.
El entrenador Jason Olmstead ganó el clasificatorio de Canterbury Park Distaff por tercera vez en cinco ediciones de la carrera y obtuvo su primera victoria en el Distaff Challenge Championship en su carrera.
La potranca por Apollitical Jess es propiedad de Tom Maher y Richard Tobin y fue criada en Oklahoma por James y Marilyn Helzer, desde la yegua por Corona Cartel, Tinys Corona Queen.
El presidente de AQHA, Butch Wise, y el vicepresidente ejecutivo de AQHA, Craig Huffines, presentan las conexiones ganadoras de Lynnder 16 en los trofeos del ARC Distaff Challenge Championship (G1) el Sábado en The Downs en Albuquerque.
© Fotografía Coady
Lynnder 16 ganó el Remington Park Oklahoma Bred Futurity (RG2) en 2018 y califico para el All American Futurity (G1) más tarde ese verano. Se clasificó para el Ruidoso Derby (G1) cuando tenía 3 años y compitió en múltiples niveles en su campaña de 4 años.
Lynnder 16 ha ganado 11 carreras en 23 salidas y ha acumulado la impresionante suma de $688,568 en su carrera.
La segunda finalista, Jr Prissys Blood, se califico al ganar el ARC Pocatello Downs Distaff Challenge en Septiembre, parte de una racha de tres victorias consecutivas de carreras de la potranca por Apollitical Blood .
Entrenado por Riley Moosman para el propietario Ron Moosman, Jr Prissys Blood fue montado por su piloto habitual de la región de Intermountain, Jesús Valenzuela. La potranca fue criada en Nevada por JR Stables, a partir de la yegua de Panther Mountain, Prissy B Panther.
Jr Prissys Blood ha ganado siete de sus 13 esfuerzos profesionales y ha ganado $106,356. Entre las victorias de su carrera se encuentran el Corona Chick Handicap en Los Alamitos el invierno pasado y el Cowboy State Futurity en Energy Downs en Junio pasado.
Los tres primeros clasificados de la clasificación Pocatello Distaff se inscribieron en el Campeonato Distaff. A pesar de que Duck Dash N Go fue borrado, el tercer calificador, Loco Ocho, regresó para el mismo puesto en el Campeonato. Loco Ocho también ganó el Weber Downs Distaff Challenge, el primer clasificado de Distaff en la pista del norte de Utah.
Loco Ocho fue montado por Mauro Salcedo para el entrenador Garth Blatter y los propietarios Les y Darla Barlow. Los Barlow también criaron a la potranca de 4 años que fue criada en Idaho, por The Louisiana Cartel y desde la yegua ganadora de múltiples clásicos, Sign of Pride, por First Wrangler.
Loco Ocho ha ganado ocho de los 18 esfuerzos de su carrera con ganancias de $48,154.
Completando el campo estaban The Polar Vortex, El Oh El, Splendid Cause, Lovely Cuvee y Fosse. Duck Dash N Go y Getit Hot fueron borrados.