RACING ESTA SEMANA
Additional Challenges

Current Nominees and Sustaining Payments
CARACTERISTICAS
SERVICIOS
Danjer, bajo el mando de Cody Smith, ganó el Grado 1, Bank of America Challenge Championship de $251,775 el Sábado por la noche en The Downs en Albuquerque.

© Coady Photography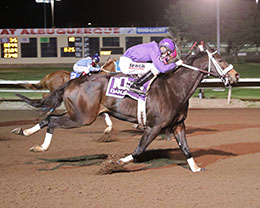 Danjer Explota Tarde Para Ganar El Grado 1, Bank of America Challenge Championship
ALBUQUERQUE, NM — 24 DE OCTUBRE DE
2020— El ganador múltiple Grado 1, Danjer, explotó tarde bajo el mando de Cody Smith para atropellar a Mi Amor Secreto por una cabeza en el Grado 1, Bank of America Challenge Championship de $251,775 el Sábado por la noche en The Downs en Albuquerque.
El hijo del padre campeón mundial FDD Dynasty , compitiendo para la sociedad de Dean Frey, Downtime Enterprises LLC y Billy G. Smith, obtuvo la décima victoria de su carrera en 19 salidas. El bolso de los ganadores de $115,817 aumentó la marca de ganancias del niño de 4 años a $852,772.
Condicionado por el criador y entrenador Dean Frey, Danjer también ganó el Downs at Albuquerque Championship (G1) en su última salida el 20 de Septiembre y el Bank of America Canterbury Park Championship Challenge Stakes (G3) en Julio. También ocupó el segundo lugar en la Copa de Oro All American de Grado 1 en Ruidoso Downs en Septiembre.
Criada desde la yegua por Take Off Jess, Shez Jess Toxic, Danjer ha compilado un récord de (19) 10-4-3. La victoria de esta noche debería darle un lugar inicial en el Campeon de Campeones (G1) de $600,000 en el hipódromo de Los Alamitos el 12 de Diciembre.
El presidente de AQHA, Butch Wise, y la directora de carreras de AQHA, Janet VanBebber, presentan al copropietario Billy Smith y las conexiones de Danjer, los trofeos del Bank of America Challenge Championship (G1) el Sábado en The Downs en Albuquerque.
© Fotografía Coady
Mi Amor Secreto, criado en casa de Kelly Pérez, ganó $50,355 por su esfuerzo en segundo lugar. Alfredo Sigla tuvo la llamada a bordo del hijo del padre campeón
The Louisiana Cartel
para el entrenador Santos Carrizales, Jr. Criado en Texas, desde la yegua por
Feature Mr Jess
Streakin In Secret, el ganador de múltiples grados ha ganado casi $580,000.
Eagles Fly Higher, bajo el mando del jockey Mario Delgado, lideran temprano y se esforzaron por ganar $25,178 por el tercer puesto. Casey Black entrena al hijo del padre líder One Famous Eagle para el propietario Darling Farms. Vh Harman y Robert Moudy II criaron al ganador de $515,919 en Oklahoma desde la yegua por First Down Dash, Lone Bet. El ganador de múltiples niveles fue segundo después de Danjer en el Campeonato de Downs en Albuquerque (G1) en su última salida.
Charlies Fury, Heza Blues Man, Walcott, Pirate Coves Hero, Stripsteak, Frog Nation y Jesstafiably Jess completaron el campo.