RACING ESTA SEMANA
Additional Challenges

Current Nominees and Sustaining Payments
CARACTERISTICAS
SERVICIOS
Emerald Downs organizó dos eliminatorias para el John Deere Emerald Downs Juvenile Challenge de $30,000 adicionales en la tarjeta de carreras del Domingo.

© Reed Palmer Photography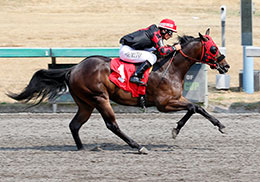 Apolinaria Prize Establece El Tiempo Más Rápido Hacia John Deere Emerald Downs Juvenile Challenge
AUBURN, WA — 1 DE AGOSTO DE 2021—
Después de un esfuerzo cercano por el tercer lugar en el Firecracker Futurity de $90,000 el 4 de Julio en Grants Pass Downs, Apolinaria Prize derrotó a Empowered To Prosper por un cuello para establecer el tiempo más rápido para la John Deere Emerald Downs Juvenile Challenge el Domingo en Emerald Downs.
Los 10 calificadores más rápidos regresarán al hipódromo de Auburn, Washington el Domingo 22 de Agosto para competir por la parte del ganador de una bolsa de $30,000 adicionales y tratar de obtener un lugar en el John Deere Juvenile Challenge Championship (G3) de $125,000 que se disputará el 23 de Octubre en la noche del campeonato Bank of America Challenge en The Downs en Albuquerque.
Montado por el jockey César Moreno, Apolinaria Prize dio un golpe al inicio, pero tomó la delantera y se aferró a la victoria mientras completaba las 350 yardas en: 18.311 segundos, lo que equivale a un índice de velocidad de 86 con un viento cruzado de 3 mph. Fue la segunda victoria en cuatro salidas para la ganadora criada en California de $14,800.
José Rosales Gómez condiciona la hija de Fast Prize Cartel para el dueño Juan Manuel Márquez. EG High Desert Farms LLC crió la potranca desde la ganadora Grado 3, SS Calendar Girl por Finding Nemo.
Empowered To Prosper, un graduado del Heritage Place Yearling Sale en $24,000, se aferró al segundo tiempo más rápido de: 18.368 segundos, un índice de velocidad de 85. El entrenador Mark Hanson ensilló el hijo castrado de Kiss My Hocks para el propietario RTM Stables LLC. Tercero en el Beehive Futurity de $ 70,834 en Mayo, el castrado alazán ganó su eliminatoria hacia el Bitterroot Futurity en su última salida el 16 de Julio en Pocatello Downs.
Richard y Janelle Simon criaron a Empower To Prosper en Louisiana a partir de la yegua por Mr Jess Perry, Shakeumuppery. Nakia Ramirez tuvo la oportunidad de viajar a bordo de la ganadora de $10,243.
Hanson también montó el cuarto calificador más rápido Eagle Assault.
Leaving Angelz, criado en Oregon por Ruben Magallanes, fue un ganador por 1 cuerpo y ½ cuerpo en la segunda eliminatoria para obtener el tercer tiempo más rápido de: 18.395 segundos, un índice de velocidad de 84 en un viento cruzado de 3 mph. Entrenado por Héctor Magallanes, hijo del padre Coronas Leaving You ingresó a las eliminatorias con una victoria en el Firecracker Juvenile de $15,500 en Grants Pass el 4 de Julio.
Desde la yegua por FDD Dynasty Angel Eyez, Leaving Angelz ha ganado tres de cuatro salidas este año y ganó $12,800.
Para obtener una lista completa de los calificadores hacia el John Deere Emerald Downs Juvenile Challenge con tiempos, toros, pedigrí, propietarios, criadores, entrenadores y jinetes, HAGA CLIC AQUÍ .
Nota del editor: se publicará una foto del clasificado más rápido cuando esté disponible del fotógrafo de la pista.