RACING ESTA SEMANA
Additional Challenges

Current Nominees and Sustaining Payments
CARACTERISTICAS
SERVICIOS
Apolinaria Prize, montada por el jinete César Moreno, ganando el $51,519 John Deere Emerald Downs Juvenile Challenge el Domingo en Emerald Downs.

© Reed Palmer Photography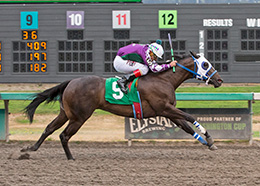 Apolinaria Prize Gana John Deere Emerald Downs Juvenile Challenge
AUBURN, WA — 22 DE AGOSTO DE 2021—
Apolinaria Prize, la clasificada mas rapida, se llevó una victoria por dos cuerpos en el John Deere Emerald Downs Juvenile Challenge de $51,519 el Domingo.
Bajo el mando del jinete César Moreno, la hija de 2 años del padre de múltiples ganadores de clásicos Fast Prize Cartel, corridor sobre 350 yardas en: 18.351 segundos con un viento cruzado de 8 mph. Fue la tercera victoria en cinco salidas para la potranca colorada y el bolso ganador del Juvenile de $24,214 aumentó sus ganancias a $39,014.
El entrenador José Gómez acondiciona a la potra criada en California para el dueño Juan Manuel Márquez. Criada por EG High Desert Farms, Apolinaria Prize fue una recompra de $7,500 en la Venta Equina de Los Alamitos 2020. Ella es hija de la yegua Ss Calendar Girl hija de Finding Nemo.
Apolinaria Prize fue tercera a principios de esta temporada en el Firecracker Futurity de $90,000 en Grants Pass Downs. Con la victoria de hoy, la potra colorada marcó su boleto para el $125,000 est. John Deere Juvenile Challenge Championship(G2) se disputará durante el AQHA Bank of America Racing Challenge Championships en The Downs en Albuquerque el 27 de Octubre
Leaving Angelz salió y chocó al principio, pero logró ganar $10,304 por terminar segundo. Héctor Magallanes entrena al castrado hijo de Coronas Leaving You para el propietario-criador Rubén Magallanes. Jaime López estaba montando al criado en Oregon hijo de Angel Eyez por FDD Dynasty. Ganador del Firecracker Juvenile en Julio, Leaving Angelz ha ganado $23,104 en cinco salidas.
Incluso en todo momento, Empowered To Prosper terminó por cuello atrás para ganar $5,152 por el tercer lugar. Mark Hanson entrena al castrado hijo de Kiss My Hocks para el propietario RTM Stables LLC. Richard y Janelle Simon criaron al castrado en Louisiana de la yegua hija de Mr Jess Perry, Shakemupperry. Nakia Ramirez estaba montando. Ha ganado $15,395 en seis salidas.
Eagle Assault, Sonora Death Row, Cm Rosie At The Bar, Uncle Shine y Like Da Boss completaron el campo.